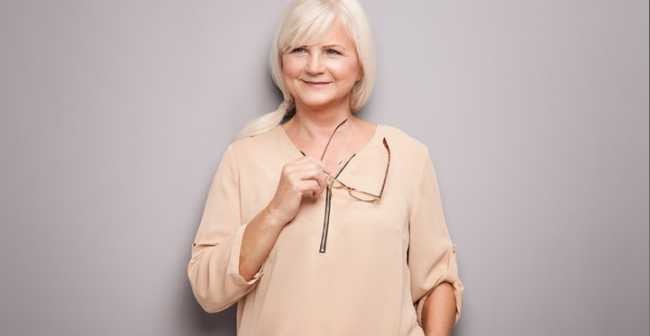 There's a lot of style advice out there, but it can be difficult to sort through it all!
So we've done the hard work for you and found these great 20 tips and tricks of fashion for older women.
Which do you like?
1. Remove makeup (foundation especially) from clothing
Your favourite shirt isn't ruined because it has makeup on it – all you need to do is apply shaving cream and rub. Rinse off and wash as normal.
2. Define your waist
This might sound crazy but it is true. One of the best ways to do this is to wear something that nips in at the waist, skimming the body or to wear a wide belt with some stretch. Do not wear a thin belt as it will make you look bigger and it can emphasise any bulges that might start to poke out over the top of a thin belt.
3. Emphasis your assets
Draw attention to what makes you look beautiful. It might be your hair, eyes, legs, your cleavage – whatever it may be, keep the focus of your look on these features and that is what everyone else will focus on too! That way they won't even notice the rest!
But just to ensure they don't, make sure you disguise the parts of your body that you feel uncomfortable with so you don't draw attention to it.
4. Fasten a stubborn zipper
If your pants zipper has a mind of its own, attach a keyring to the zipper hole and slip over the button once zipped.
5. Stop runs in your tights from getting worse
If you see a run starting to form, you can stop it by dabbing some clear nail polish over it to prevent from stretching into a rip. Apply before wearing and let dry.
6. Wear a small/kitten heel
Wearing heels lengthen the legs and completely change the way a woman walks and holds herself. Pay careful attention to the type of heels you choose. Sometimes very thin heels, like a stiletto, can make an already plump woman look clumsy. Choose a wedge or a good solid heel. Nude shoes are ideal to give the impression of endlessly long legs.
7. Put your hair up
Yes, ladies – get it up off your neck and shoulders! This is instantly slimming. Remember to keep the look soft i.e. nothing harsh scraped off the face.
8. Know your lines
There are so many ways to create vertical lines in a look: a v-neck line, an open jacket, a waterfall cardie, a long pendant necklace. Remember: stripes should go up and down the body – not across.
9. Wear the correct undergarments
If your undergarments are ill-fitting, whatever you put over the top will never look good. Get these basics right with a professionally fitted bra and full briefs. Shapewear can work wonders by smoothing out any undesirable lumps and bumps creating the illusion of a fit and toned torso.
Also, remember if you're wearing white pants, don't wear black or white underwear because it will still be visible through your pants. Instead, buy nude underwear – it doesn't have to be a g-string, but instead try to opt for seamless briefs.
10. Know your measurements
Know your measurements before you shop as it will not only will it cut down the time you spend trying on clothes, it will help you choose outfits that fit your body perfectly. Among the most important body parts to measure are your bust, chest, hips and waist.
11. Go peplum
If you're worried about your waist or hips, try peplum for an instant slimming effect. It flatters every figure and does wonders at hiding bulges or bigger tummies.
12. Try on more than one size
Shoe sizes vary among designers and brands. Start by trying on your usual shoe size, then try on one pair that's a half-size smaller and a second pair that's a half-size larger. This goes for clothes too – it can help to take another size to the change room to avoid a second trip.
13. Avoid tangled jewellery
If you're travelling and want to take several necklaces, you can organise them easily by putting one half of the chain through the straw and fastening the clasp once it comes out the other end.
14. Get rid of red wine stains
Accidentally spilt red wine on your clothes? You can get it out… by pouring white wine on top. Dab the area with a cloth to lift off the stain to neutralise the red colour. But be careful not to rub it because that will force the red wine into the clothing.
15. Know your colours
Know which colours will flatter you the most by figuring out if the undertones in your skin are either warm or cold. Women with cool undertones look best in white, black, grey, silver, and shades of blue. Women with warm undertones will be dazzling in shades of yellow, gold, brown, green and red.
16. Organise your wardrobe
This way you'll be able to see what you own (and actually wear it)! Make piles of what you want to keep, donate or throw out and be merciless.
17. Use double-sided tape
Keep plunging necklines in place and prevent any fashion mishaps with this tape!
18. Limit your accessories
All women love accessories, but there's a line. Stick to statement pieces and avoid an arm full of bracelets or a hand full of rings. Less is more!
19. Make up some ready-to-wear ensembles
Have ready-to-wear ensembles hanging in your closet! They will come in handy when you either have absolutely nothing to wear or when you're in a rush to pull an outfit together.
20. And finally… dress how you feel, not your age
"Dress your age" – you've heard it a thousand times, but actually, you shouldn't have to dress like a nanna. Be bold and don't be afraid to shop in clothes stores that aren't specifically targeted to older women. They often have some great buys that aren't necessarily age-specific. Just wear what you feel comfortable in!
Share your thoughts below.
Comments