Stylish Melania Trump has a $800 answer for all the 'shoe police'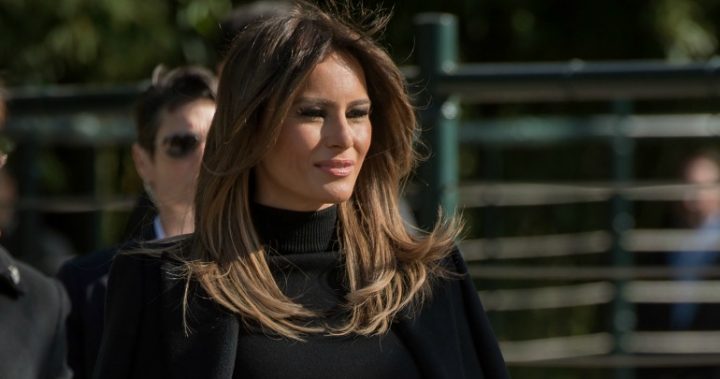 Melania Trump's been savaged on social media for her inappropriate footwear plenty of times, yet continued to wear stilletoes on almost every occasion because, well, she clearly likes them and who's to say what the 'right' shoe is anyway?
But America's first lady did finally bow to practicality – walking the Great Wall of China in pointy heels would've been no joke, so she donned a pair of sensible flats for the trip, during the Trumps' 12-day state visit to Asia. But she did it at a time of her choosing, and looked as stylish as ever while doing so.
The 47-year-old wore heavy black coat, long, cream wool skirt, and turtle-neck sweater, topped with a waist-cinching belt and with matching pointy flat shoes. She even pulled her usually flowing locks back for the breezy walk along the historic wall, which involves plenty of steps.
Ad. Article continues below.
The US first lady had treated her Chinese audience to some eye-catching looks during her visit, having packed a wardrobe worth a whopping £32,000 (A$55,000, US$42,200)  for the trip, according to The Sun. The flat shoes she wore at the Great Wall alone cost £454 (A$782, US$600) from shoe-designer-to-the-stars Christian Louboutin. 
Melania had stayed in China after husband Donald left for Vietnam, where he was taking part in the Asia-Pacific Economic Cooperation summit. After her walk on the wall, and having already checked out the Beijing Zoo to see the pandas, the US first lady was due to head back to America, stopping first in Alaska to greet US troops.
I am leaving China for #APEC2017 in Vietnam. @FLOTUS Melania is staying behind to see the zoo, and of course, the Great WALL of China before going to Alaska to greet our AMAZING troops.

— Donald J. Trump (@realDonaldTrump) November 10, 2017
If money was no object, would you spend it on beautiful outfits? Or would you be more investment or charity-minded?