Stylish Helen Mirren shares her top five tips for women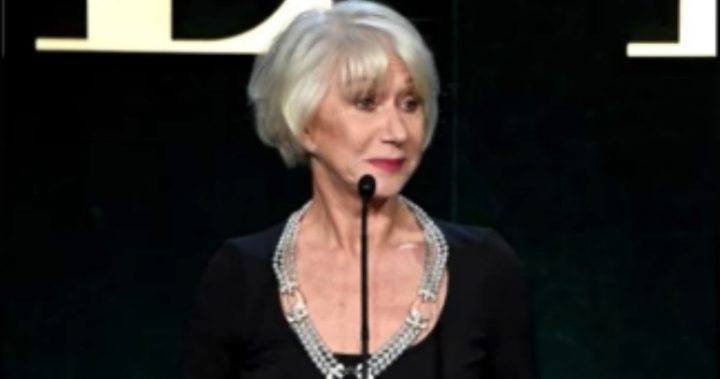 Dame Helen is known for her youthful looks, sense of style and her incredible wit.
Read more: Helen Mirren walks the red carpet in a glamorous turban
Now she's combined the three, stepping out in a figure-hugging black dress and showing us all why she's one of the most stylish and well-loved over-60 celebrities.
The 71-year-old arrived at the ELLE Women of Hollywood awards wearing a long white coat, which she soon took off to show off the ankle-length sleeved-dress – designed by Victoria Beckham.
Ad. Article continues below.
Read more: Helen Mirren rocks leather and lace on the red carpet
Dame Helen added a little bit of bling to the look with a silver statement necklace and matching clutch.
But, the highlight of the awards was the actress' acceptance speech after being awarded the Elle Women of Hollywood Legend award.
In her acceptance speech, Dame Helen offered her top five tips for women.
Ad. Article continues below.
1. "Never drink alcohol unless you're celebrating something, upset about something or it's a day that ends in the letter y. And never drink when you're driving."
2. "There are no rules about love, I don't believe—but don't be in a rush to get married. Honestly, I married Taylor much later in life and it's worked out just great. But give your partner the freedom and support to achieve their ambition. it's very important and that goes both ways for men and women."
3. "At the blackjack table, always split aces, eights and nines. Believe me, it really improves the odds."
4. "Connect with friends daily and I don't mean on Facebook. Better to have three great friends than 300 friends on social media—friends that you really talk to.'
5. "And finally, ignore anyone who judges the way you look, especially if he or she is some anonymous miserable creep lurking on the internet or is a bloated small-headed dinosaury hand candidate for president."
Ad. Article continues below.
She also said "To make you proud that you chose to honour me tonight I'm going be the nastiest of all nasty women."
She wasn't the only over-60 star to be honoured at the awards.
Actress Kathy Bates was among the honourees, doing it in super style!
Ad. Article continues below.
Known for her age appropriate style choices, Bates rocked a boldly patterned blazer with a simple combination of black pants, a black blouse and black heels.
You could certainly be forgiven for thinking she was younger than 68.
What do you think of Helen Mirren and Kathy Bate's style? Are you a fan?