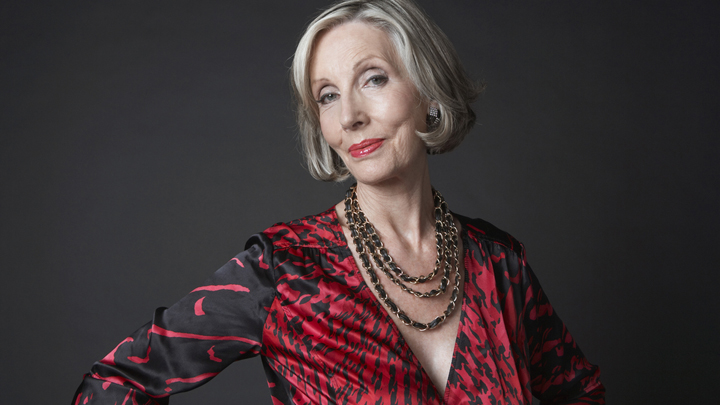 When we are in our 60s, it can feel like we are being judged by society at every turn, especially about the way we present ourselves. But how do we look youthful and younger without feeling ridiculous? It's a difficult balancing act but there are plenty of over 60 women doing it well and so can you!
As long as you want to accentuate what you have instead of being obvious about it, then you'll be on to a winner. There's nothing worse than a 60-year-old in a tight leather skirt with cleavage spilling out of a too-tight top!
Here's our tips for staying stylish in your 60s without overdoing it.
Avoid black
You may have heard that black is slimming and appropriate for almost every occasion, but as women get older, their skin becomes paler and wearing black can do the opposite of flatter. It can actually emphasise wrinkles and dark shadows under the chin and around the eyes. If you do love your black, consider adding a bright scarf or statement necklace for a pop of colour. Even earthy colours like olive, grey and brown can be that neutral base instead of black.
Wear more shape-fitting tops and dresses
Older women tend to want to hide their bodies but if you wear a box-y dress or big shirt, it can be hiding that slim waist or trim legs. By covering the parts that can be accentuated, you can look heavier. A tailored jacket, a shorter dress or a cinching belt could be all you need to get a different look.
Dare to bare
Just because your age is increasing doesn't mean your hemline has to as well! You might be trying to hide veins or lumps but a long skirt can make women look wider and frumpier. To find the most flattering skirt length for your shape, look in the mirror and note the slimmest part of the area around your knee – it could be right above, right below or in the middle. This is where your hemline should hit.
Wear shapewear
A lot of ladies keep their shape wear for a special occasion but the fact is these can be worn under everyday outfits – if they're not too tight. This could make all the difference at that dinner party or important day at work.
Donate or throw out the following items:
Muumuus
Floral cotton shirts
Three-quarter unfitted white pants
'Jesus' sandals
Plain elastic-waisted pants
Polo shirts
Plain, oversized t-shirts
Knitted, unflattering jumpers
Anything with embroidery
Shop in places you never have before
One of the biggest mistakes mature women make is excluding themselves from stores that have a younger feel. No, the shop assistant won't look at you strangely, and no she won't judge you! Have a browse, you might be surprised what you find. Some of the cheaper clothing stores such as Valley Girl, Temt and Dotti have great clothes to suit any body shape or age, such as cardigans, flowy skirts, basic tops, pretty dresses and chic three-quarter capri pants.
Wear jeans
Jeans are always in fashion, and they can look great at any age – just make sure you get the right type for your shape. Trouser cut or flared jeans look better on larger women, but if you have a small waist, you can pull off thinner, darker types.
Avoid high heels
Sky-high heels are not making you look younger, they are doing the opposite. All you need is a kitten heel (i.e. a short heel) or a nice flat to make any outfit look classy and young.
Pay attention to your hair
An outfit can go from fab to drab if your hair isn't looking great. If you have long hair, give it a blow dry with some soft curls, or wear it in a bun with a bit of fringe. If you have short hair, texture it with some hair product. Simple hair accessories also work well, but stay away from bows, headbands and anything floral.
Freshen your wardrobe
Inject some colour into your wardrobe – change it up!
Buy some more scarves and statement necklaces
Ditch cardigans and look for structured jackets
Look for tops that are clingy in the right places i.e. around the breasts but not around the tummy.
Find some outfits you can layer
Take photos of clothes arranged in different looks
Take a look at magazines to see what the styles are and try to emulate your favourites – you can have fun experimenting with less expensive alternatives.
And above all:
Remember:
Don't worry what other people think – as long as you feel comfortable
You don't have to spend a lot to look good, you just have to be smart about it
Keep your long hair as long as you want!
Go shopping online to find great looks and browse what's out there – especially if you're put off by pushy sales assistants
Wear leggings if you can get away with it!
Match old with new – don't shy away from your vintage clothing…simply mix it with new purchases for a stylish, youthful look
The three no-nos of dressing youthfully. Consider before leaving the house:
Am I showing too much flesh/cleavage?
Are these clothes obviously too tight?
Is my underwear showing through my clothes?
If you answered yes to any of these questions, you may need to reconsider your outfit so that you can look your best.
Here's some of our favourite youthful looks: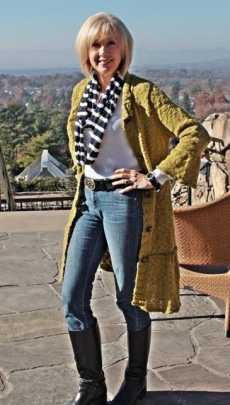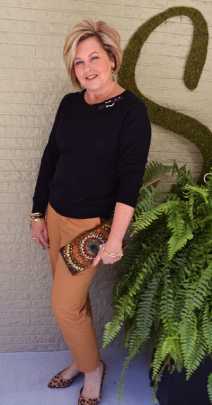 via 50isnotold

via Style Savvy DFW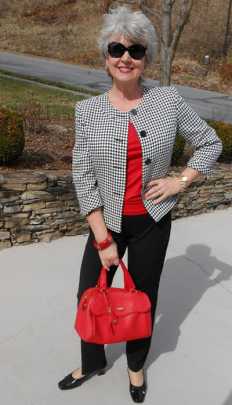 via 50 not frumpy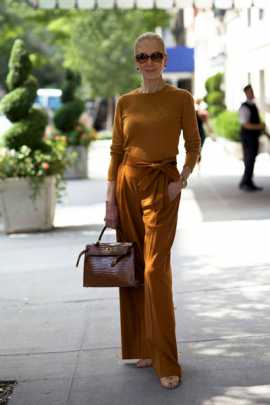 via Messy Nessy Chic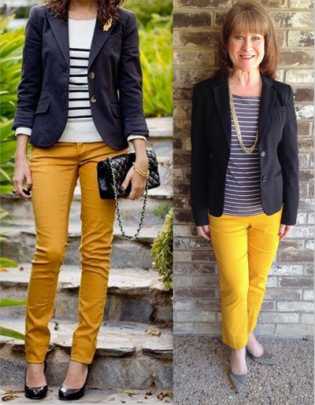 via Style Savvy DFW
Comments