Smiling Queen brightens up base with vibrant purple three-piece outfit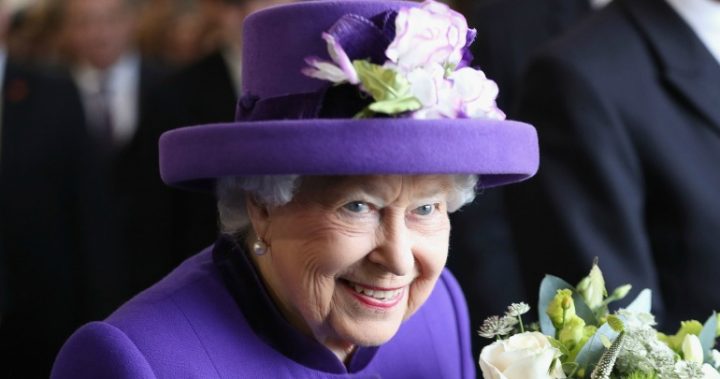 Queen Elizabeth was all smiles in a vibrant purple suit on a visit to the air force, showing that it's not just the younger royals who have a winning way with the camera.
The monarch was visiting the Royal Air Force station at Marham in England's Norfolk, where she was greeted by children from local schools who lined up by the gates of the air force base to wave flags as she drove in. 
The queen was officially opening a new operations centre but it was also a chance to show that the spotlight loves her just as much as her grandchildren and their wives, after a week in which the Duchess of Cambridge and Prince Harry's fiancee Meghan have been in the limelight.
Read more: Perfect princess style: Catherine dazzles in flowing jewelled gown
As is often her style, Queen Elizabeth wore a simple purple overcoat with a jaunty matching hat and sleeved shift dress underneath, further brightening up an already cheerful ensemble with a multi-strand pearl necklace and large jewelled brooch. The monarch finished off the look with her favourite style of black handbag – a top-handle bag made by Launer, of which she's said to own 200.
Ad. Article continues below.
Ad. Article continues below.
What's actually in the handbag, since the Queen has no use for public transport tickets or even a purse, has long been open to conjecture, but a royal biographer revealed once that she does always carry a mirror and lipstick plus a £5 in case she should need to give to a church collection.
Lastly, she wore a pair of her favourite Anello and Davide court shoes with low heels, also in black, and black gloves to match.
Ad. Article continues below.
It's been a week in which the Duchess of Cambridge and royal fiance Markle have sparkled at official events, while wearing very different styles. While Catherine selected a series of ladylike dresses for a tour of Sweden and Norway, Markle looked funky in a designer suit at a dinner with Prince Harry.
Although Catherine won plaudits for many of her choices, some said that she was dressing 'too old' after being snapped in a series of dresses that were perhaps more 'busy' than her normal streamlined choices. Daily Mail columnist Jan Moir accused Catherine of looking like she had "dived into the bargain bin of a Seventies charity shop".
"Dodgy fur, foul prints, murky colours, glum expressions, Queen Mum shoes — what was going on?" Moir asked.
Not that all of the newspaper's readers agreed, with at least one commenter saying that the young royal looked "elegant and presentable".
Ad. Article continues below.
There's no criticising the queen's style, though. She knows what she likes and sticks to it, as a result always looks comfortable and happy on official duty.
Would you to the same as the queen and stick to a 'uniform' for public events? Did you like the Duchess of Cambridge's outfits in her recent tour or do you agree that they were frumpy?