Olympic figure skater dazzles crowd with costume change mid-performance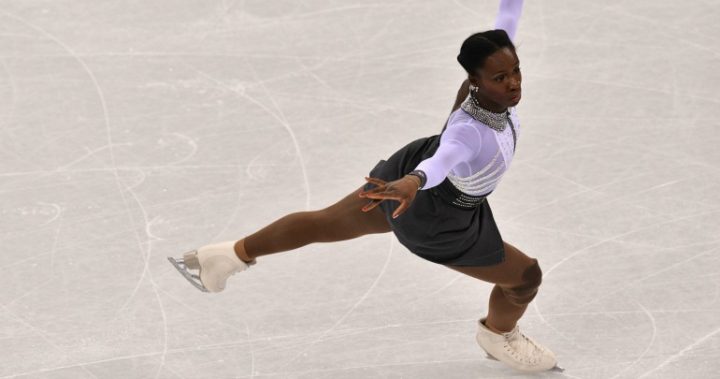 An Olympic figure skater wowed the crowd with a swift costume change mid-way through her routine, proving a master at multi-tasking.
French ice dancer Mae Berenice Meite made a grand entrance on to the ice in a skintight white leotard and black tight skirt, as she pulled off some impressive jumps and spins.
However, she had a surprise up her sleeve, and after landing a triple spin, she carefully pulled off a side of the skirt, to reveal a colourful jewelled layer underneath, before pinning it back to the other side.
French skater dazzles fans with mid-routine costume change.

WATCH: https://t.co/jdQmA1dDnp#OlympicsOn7 pic.twitter.com/WsR9QZKWhu

— 7Sport (@7Sport) February 23, 2018
Ad. Article continues below.
Clearly pleased with the result, she smiled to the crowd, getting a round of applause for the brave trick. She originally entered the free skate on Friday in 22nd place out of the 24 skaters, so she was no doubt keen to leave a lasting impression.
While the routine began to the sounds of Chopin, it then transitioned to an upbeat DJ tune, and she matched her moves to it.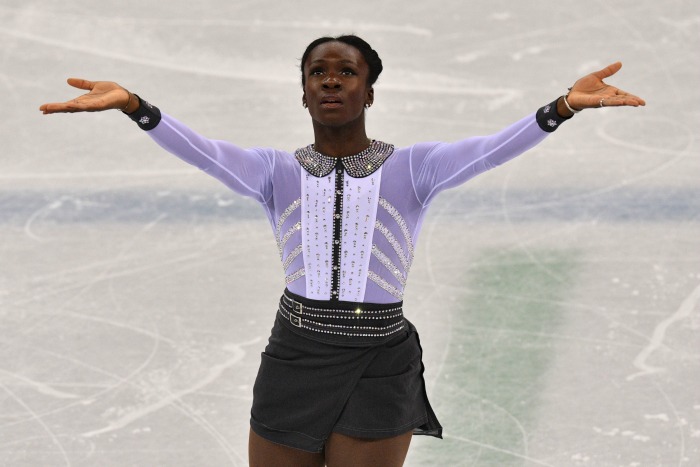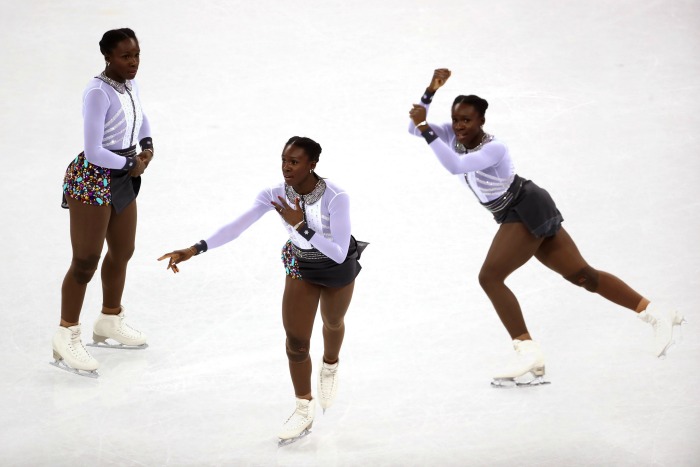 Her choice to change up her skirt slightly won her praise from viewers who called for her to be awarded a medal, and they shared their comments on social media site Twitter. One wrote: "This French figure skater pulled off a costume change mid-skate, deserves all the gold medals."
Ad. Article continues below.
Another added: "Where's the Olympic French ice skater's medal for her mid-performance costume change?" 
First @beyonce, then a mid-skate costume change? France's Mae Berenice Maite pulled out ALL the stops in 2018. #WinterOlympics https://t.co/ZARjrrHq1s pic.twitter.com/P2thM7PDAk

— NBC Olympics (@NBCOlympics) February 23, 2018
It comes after a stream of impressive routines over the last few days, and proving it's a year of risk-taking, one skater put a very new spin on her routine, as she rocked out to AC-DC.
Ad. Article continues below.
Read more: Brave figure skater rocks out to AC-DC with incredible ice routine
Hungarian Ivett Toth, 19, has been flooded with praise for her brave choice, after showing off some flawless spins and jumps to a medley of 'Thunderstruck' and 'Back In Black' at the PyeongChang 2018 Games.
Wearing tight black leather trousers, and a matching sleeveless and studded jacket, she came on to the ice with obvious attitude, as she got into character for the rock songs. The routine went without a hitch, and ended with the young teen getting a standing ovation.
Ivett Toth #Olympics #danceskate #ACDC #heavymetalonice m/ pic.twitter.com/DpTOtZuOl2

— Reiko Sinful Stuff (@Reiko_SS) February 21, 2018
Ad. Article continues below.
While she didn't win a medal, her sequence got her a flood of comments from fans, who applauded the brave choice of song, outfit and moves.
She had some strong competition this year, and another hit on the ice was Aussie teenager Kailani Craine with an amazing figure skating free program on Friday.
What has your favourite routine been so far this year?