Nicole Kidman leaves little to the imagination at awards show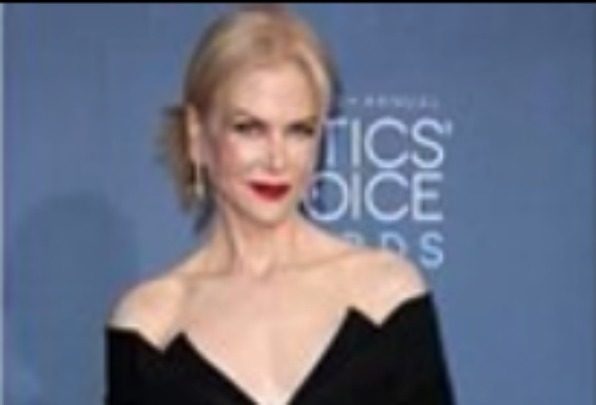 The awards season has begun and with it comes the usual talk of celebrity style.
Today was the Critic's Choice Awards, and of course our Aussie favourite Nicole Kidman took a daring leap into the awards season style.
She left little to the imagination, walking the red carpet in a revealing black dress that showed plenty of chest, plenty of her mid section and a lot of leg.
Ad. Article continues below.
It's fast become one of the most talked about looks from the night online.
And while you're either going to love the look or hate the look, there's an even bigger issue to discuss.
As you flick through the photos on the news sites, one thing fast becomes apparent.
Where are all the over-60s celebrities?
Granted there were a few male celebrities in the 60 or older age bracket including Tom Hanks, Mel Gibson, John Travolta and Jon Voight on the blue carpet.
Ad. Article continues below.
But where are all the leading ladies over the age of 60?
Where were the Helen Mirrens and Maggie Smiths and Judi Denchs?
Scroll through the news sites and you'll find a few of the more mature celebrities buried in the style pages.
Ad. Article continues below.
One of those is Judith Light, who appeared in a full length midnight blue gown. 
The 67-year-old was snapped alongside her Transparent co-star Jeffrey Tambor.
Rita Wilson posed for photos with her husband Tom Hanks in a simple black dress with a plunging neck line.
Ad. Article continues below.
The 60-year-old couple were also photographed with Chesley Burnett "Sully" Sullenberger, the pilot who Hank's played in the movie Sully, and his wife Lorrie.
There were some wins too for the over-60 celebrities with Meryl Streep (who wasn't at the awards) taking home the Best Actress in a Comedy for her role in Florence Foster Jenkins, John Lithgow winning Best Supporting Actor in a Drama Series for playing Winston Churchill in The Crown and Mel Gibson's film Hacksaw Ridge winning Best Action Film.
Ad. Article continues below.
And as many predicted Natalie Portman was awarded Best Actress for her portrayal of Jackie Kennedy in the film Jackie.
Let's hope we see some more over-60 celebrities showing off their style on the red carpet this awards season!
What do you think? Do you wish there'd be more over-60 celebrities on the style pages and red carpet?