Mutton as lamb? To hell with that, says Mirren, in transparent skirt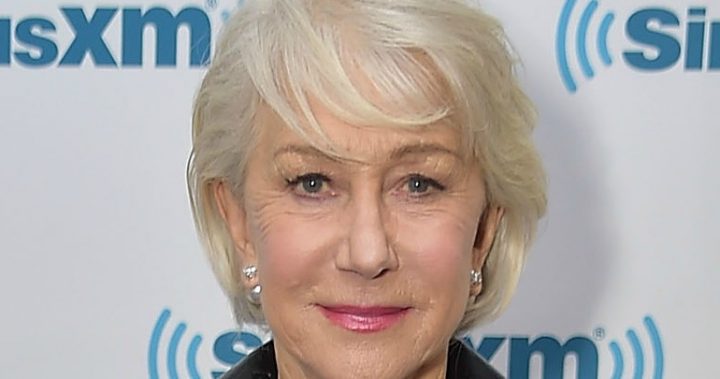 Helen Mirren's clearly said to hell with the whole 'mutton dressed as lamb' debate in a daring outfit at a publicity event in New York.
The 72-year-old star wore two trends currently popular with the starlet set when she appeared with Donald Sutherland for a promotional visit to a radio station, just a day after she donned a tasteful, full-length gown for a screening of the pair's new movie in the same city.
Mirren paired a patent leather bomber jacket with a vibrant pink sweater and, most surprisingly, a transparent skirt for the visit to the SiriusXM studios on January 12. Transparent lower-halves are all the rage at showbiz events right now, usually over top of what would be commonly called a pair of 'granny pants' to provide at least a smidgen of modesty.
Sure enough, Helen had a pair of sensible, black knickers on display, along with a chunky pair of biker boots with multiple buckles.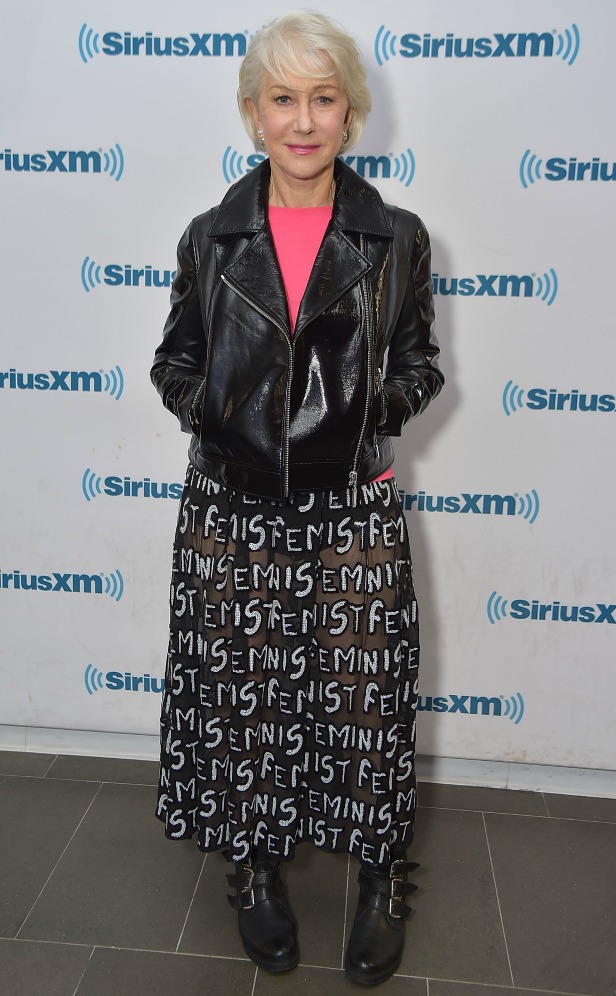 It's an outfit that's true to her adage of dressing not for her age, but in what she feels good wearing. Of course, it helps if you have shapely pins and a va-va-voom cleavage like the veteran actress.
"I'm a woman that loves make-up and getting dressed up. As I get older, I don't look as good, but I don't give a damn," she's said in the past, admitting that she doesn't actually spend much time on her beauty routine. "I climb on the bus and get snapped with no make-up on, and I rarely go to the hairdresser's … When we were younger, my sister and I used to add highlights to each other's hair using an old toothbrush!"
Mirren took a more covered-up approach to a slightly earlier promotional event, where she wore a figure-hugging burgundy dress that clung to her curves but fell conservatively to the floor. But at both events she kept her make-up low key, with some blush to lend her rosy cheeks and a matte, light berry-coloured lipstick. The only hairstyle change was from a swept-back fringe at the screening versus a forehead-covering one at the radio station.
Ad. Article continues below.
Read more: Youthful Helen Mirren is leading lady in striking burgundy dress
She was again partnered by Sutherland with whom she appears in The Leisure Seeker, the story of couple enjoying one final, spontaneous road trip from Boston to Ernest Hemingway House in Florida before the husband's Alzheimer's wipes his memory completely. Sutherland plays the husband and Mirren the wife, looking most unlike herself with a more 'mumsy' dark-blonde do.
The movie has received mixed reviews from critics, who snubbed the script, but praised both Mirren and Sutherland's performances, and Mirren's nominated for a Golden Globe for her work.
Do you think there's an age limit to wearing leather or going for a transparent number? Or should you wear whatever you feel comfortable with?
With Facebook removing news sites from your feeds we ask that you sign up for Starts at 60's emailers here. And to keep us on your wall, join some of our new Facebook groups and clubs:

News Junkies Club – Australia
News Junkies Club – USA 

See news on the change and links to all our other clubs and groups here.