'Men, we don't necessarily want to f*** you': Cate Blanchett lets fly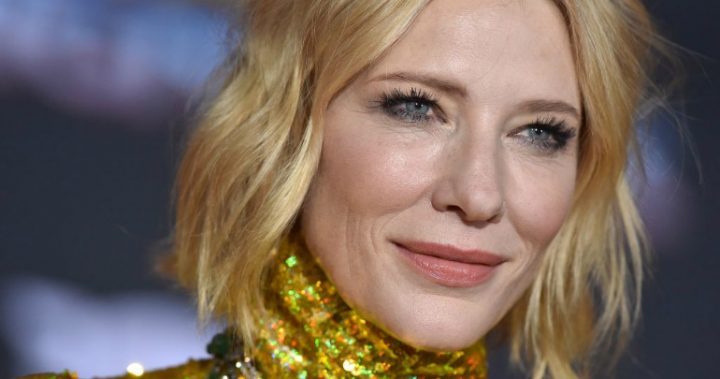 Cate Blanchett looked ravishing in red at the annual InStyle Awards, where she accepted the award for Style Icon. 
Dressed in a black-and-red striped Givenchy dress, the Australian-born actress favoured a smoky eye palette that stood out against the rest of her natural-looking makeup. 
Though the neckline plunged to Blanchett's waist, the outfit was fairly modest, with excess fabric working to give off a power-shoulder vibe and a relatively demure silhouette. 
The Blue Jasmine actress showed off her long bob haircut with unkempt waves. 
Ad. Article continues below.
But everything about her outfit turned out to be a political statement, and Blanchett had no qualms about using her acceptance speech as a way to further her point of view.
"For me, it's always those women who have been utterly themselves, without apology. Whose physical presence and their aesthetic is really integrated in a non-self conscious way into part of who they are, and women who know how they look is not all of who they are but just an extension of that. And it's about women who feel free to wear what they want, when they want, and how they want to wear it," Blanchett said of the important attributes that create a style icon.
Read more: Cate Blanchett steps out in love-it-or-hate-it sparkly '70s disco dress
"I mean, you know, we all like looking sexy, but it doesn't mean we want to f*** you," Blanchett said as she accepted her award.
Ad. Article continues below.
Blanchett then turned the tables on the discussion, calling out former White House aide Steve Bannon, who had said that "people didn't care" about US president Donald Trump's history of sexual assault or the infamous "grab them by the p****" recordings that emerged during the presidential campaign. 
"No one says to Steve Bannon, 'You look like a bag of trash. Do you want me to throw you out?'" Blanchett said during her speech. "But the comments that get said about what women wear on the red carpet—I mean, if you trawl through those trolls on the internet, just don't." 
Cate Blanchett at tonight's #InStyleAwards: "We all like looking sexy, but it doesn't mean we want to f—k you." pic.twitter.com/3FKFjJJVzC

— Andrea Mandell (@AndreaMandell) October 24, 2017
Ad. Article continues below.
Read more: Cate Blanchett stuns live crowd with drag show performance
Blanchett publicly denounced Hollywood exec Harvey Weinstein earlier this month after a spate of sexual assault and harassment claims were made public in the media. 
"Any man in a position of power or authority who thinks it's his prerogative to threaten, intimidate or sexually assault any woman he encounters or works alongside needs to be called to account," Blanchett said in her statement on October 10. "It is never easy for a woman to come forward in such situations and I wholeheartedly support those who have." 
Read more: Actress Cate Blanchett tops Queen's Birthday honours list
Ad. Article continues below.
Blanchett also made headlines in 2014 when she called out an E! cameraman who was panning the camera slowly up the actress's body to capture every aspect of her red-carpet outfit.
"Do you do that to the guys?" Blanchett demanded, as she crouched to the cameraman's level, purposely ruining the shot as she pointed out the discrepancy. 
What do you think of Blanchett's speech? Should women adjust their fashion to avoid sexual advances?