Melanie Griffith shocks in revealing sheer lace dress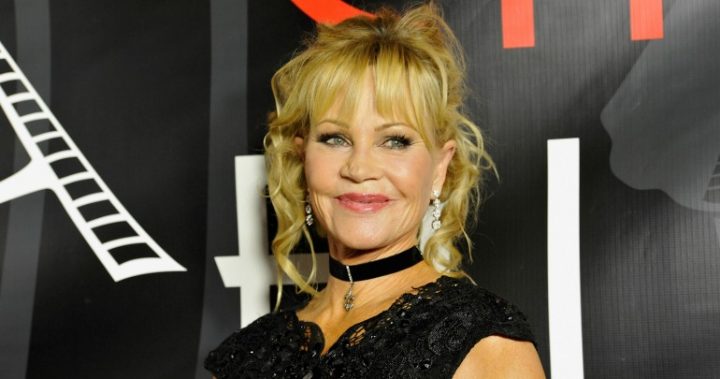 Melanie Griffith has pretty-much always been known as a sex symbol, and she's not letting turning 60 in August stop that train of thought. 
The Hollywood actress arrived at 4th annual CineFashion event at the El Capitan Theatre in Hollywood on Sunday wearing an outfit that didn't leave much to the imagination.
The black lace dress had a slit up the side to show off a decent amount of leg, but it was hardly needed. The dress was rather see-though, revealing her underwear anyway. She teamed the look with a black choker and soft curls, a different look to her normally straightened tresses.
The daughter of Tippi Hedren and Peter Griffith starred in a range of movies throughout her career, even playing daughter to her mother in the movie Roar. Roles in Body Double, Working Girl, Buffalo Girls and The Bonfire of the Vanities were some of her best known work. 
Ad. Article continues below.
A former child star, Griffith is perhaps best known for her relationships as much as her movie career.  She was married to Don Johnson (twice) then Steven Bauer before Antonio Banderas, who she divorced in 2015. She also had flings with Jack Nicholson, Ryan O'Neal and Warren Beatty.
She told Porter magazine in April: 'I think part of the reason my marriage to Antonio fell apart was because I was stuck; nobody else is to blame. It's just that I personally got stuck and I won't let that happen again, I want to enjoy life, I want to do whatever I want to do.'
As far as dating goes Melanie said she's shy with men now, and nobody had asked her out on a date in almost two years.
What is your favourite film featuring Melanie Griffith?