Melania Trump shows the world how to wear military chic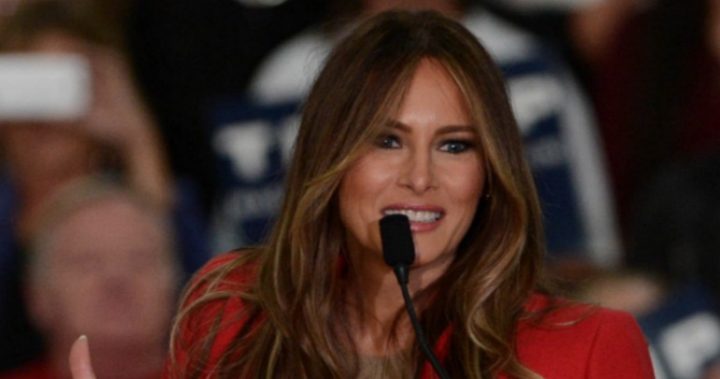 When it comes to stylish first ladies, Melania Trump is up there with the best of them.
Trump's sleek style has captured attention around the world ever since her husband announced he was running for president and people have only become more obsessed every time she steps out for an official engagement.
On Friday, she accompanied the president to the Joint Andrews Airforce base in Maryland and boy did she bring the style.
Taking her inspiration from the military uniform, the first lady rocked a khaki jacket, beige cigarette pants and snakeskin heels.
Ad. Article continues below.
The first lady has been stepping up her public role lately and took to the podium in Maryland to introduce the president to the crowd.
However, an awkward exchange between the pair quickly went viral after the president chose to vigorously shake his wife's hand rather than give her a hug or kiss.
The first lady appeared surprised by the gesture and put on a strained smile as she made her way to her chair.
Ad. Article continues below.
Reaction on the internet was swift with some calling it the most awkward moment between the pair yet. 
The US First Lady introduces her husband on stage at an event at Joint Base Andrews. He thanks her with a handshake. pic.twitter.com/fPQNoMpnWa

— Caitriona Perry (@CaitrionaPerry) September 15, 2017
Ah yes, a handshake, so intimate, thank you very much husband sir, my misery is palpable, solid deal sir

— MelaniaTrumpFLOTUS (@TrumpFlotus) September 16, 2017
Ad. Article continues below.
my husband and I just shook hands goodnight just to try it and OMG IT IS SO WEIRD!!!! WTH?!?!?

— Megan Mak. (@meggitymak) September 16, 2017
Much has been made of the couple's public relationship since the election campaign with many comparing their often stiff and clinical appearences to those of Barack and Michelle Obama, who were regularly affectionate with each other in public. 
The Obamas even shared a smooch on the kiss cam at a basketball game between the US and Brazil in 2012. 
POTUS ?FLOTUS 45 vs 44 ? pic.twitter.com/DqcarFcGFM

— aahnee?? (@123atozee) September 15, 2017
Do you think people are overreacting or was the handshake a bit odd? Is this just a case of different couple, different ways of showing affection?