Melania Trump shimmers in knock-out $8K gown at black-tie dinner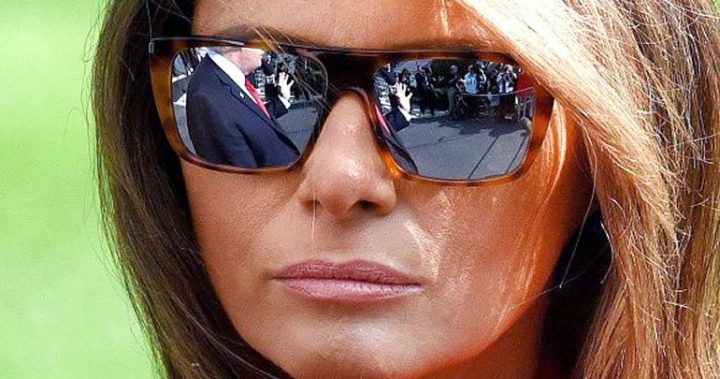 Melania Trump turned up the glamour dial to maximum for a black-tie do at the White House.
The former-model First lady donned a stunning sequinned, US$8,000 (A$10,000) Monique Lhuillier gown in silver, with a sheer overlay over the top and a black ribbon belt. She kept her make-up relatively subtle and her hair in loose waves, so as not to overpower the shimmering gown. 
Mrs Trump appeared uncharacteristically cheery in photographs from the White House Historical Association dinner and reception. The normally serious First Lady smiled widely as she was introduced to the crowd by her husband as "the star of the Trump family".
Embed from Getty Images
Embed from Getty Images
It was a far cry from her more casual look when she visited Florida earlier in the day, where she opted for a more casual look, as she has done since being lambasted for wearing stilettoes to visit Texas, which had been ravaged by Hurricane Harvey, a few weeks ago. For the most recent Florida visit, Mrs Trump looked immaculate in a pair of white jeans with a loose khaki shirt and white Converse sneakers.
Ad. Article continues below.
She left her US$12,000 (A$15,000) Hermes Birkin handbag on the official jet while visiting people impacted by Hurricane Irma. 
Speaking at the White House dinner, Mrs Trump paid tribute to the hurricane survivors in Texas and Florida, saying that she and the president had met people who had lost so much but were so determined to rebuild their lives.
President Trump, meanwhile, reportedly praised his wife's work in the disaster zones.
"They love her out there, I'll tell you," he said, according to the Washington Examiner. We walked all over Florida, we walked all over Texas and they're loving Melania and she just enjoys helping them with what she's doing and working with you folks."
What do you think of Melania Trump's dress?