Melania Trump looks radiant in playful sleeveless dress at US Women's Open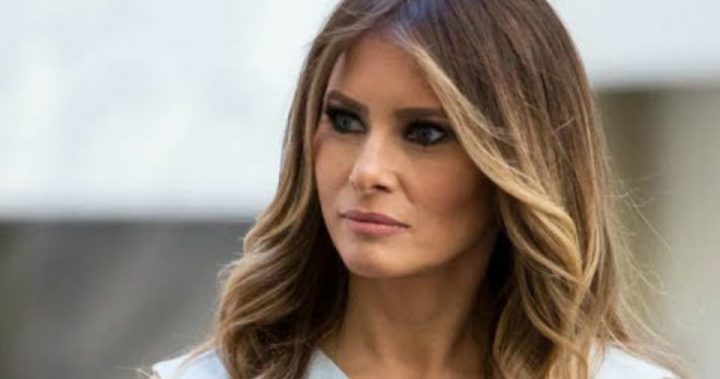 Having a private plane might help a little with jet lag; Melania Trump looks like she hasn't missed a beat since her trip to France.
On Friday afternoon, the president and first lady headed straight for the Trump National golf course in Bedminster, New Jersey to catch some of the US Women's Open Golf Championship.
For their initial visit on the second day of the golf championship, Melania kept things low-key on arrival with a form-fitting, long-sleeved white shirt and high-waisted navy trousers with a caramel belt.
The look is a little more subdued than the striking fashion Melania was exhibiting during her trip to France, but dressing for comfort is essential after an eight-hour flight.
Ad. Article continues below.
Read more: Ooh la la, Melania shows her true colours with style in Paris
Phone in hand and determined to escape the impending drizzle, the first lady strode towards the Clubhouse in sky-high heels while her husband waved to the media gathered outside.
A quick glance over her shoulder revealed that Melania, other than looking slightly tired, was bouncing back from the transatlantic trip better than most would.   
With the weather cleared and sun shining, Melania stepped up the fashion stakes on the final day of the US Women's Open, donning a sleeveless white dress tailored perfectly to her lithe frame.
Ad. Article continues below.
The laser-cut detail at the long hem of the white sundress added a playful flair to the outfit, which was topped off with blush-pink heels.
Read more: Melania Trump steals the limelight at G20 with $7,000 coat
The first lady's hair was swept to the side, framing her face and large sunglasses with a slightly edgier look than her usual soft 'do. 
Ad. Article continues below.
True to form, President Trump updated his Twitter followers regularly over the weekend, interspersing golfing updates with politics and accusations of media releasing fake news.
South Korean golfer Park Sung-hyun took out the top prize at the US Women's Open.   
What do you think of the first lady's style at the US Women's Open?