Five fabulous eye make-up tips for the over-60s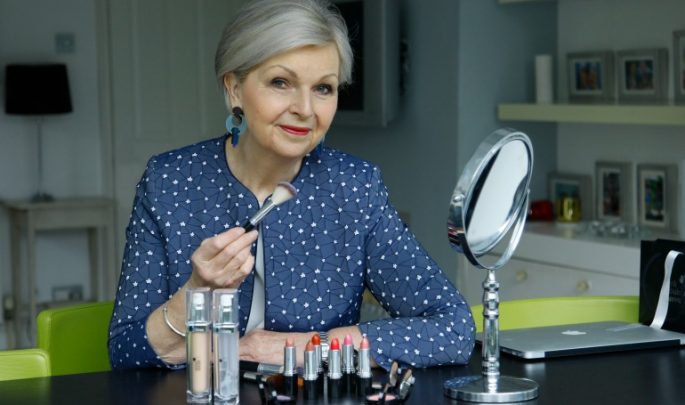 When I was 65, back in 2013, I was finding it increasingly difficult to find products which worked on my older face.  I felt that I wasted a lot of money in my 'trial and error' approach. I also hated the way that the beauty industry ignored my needs unless they were trying to persuade me that I should take an 'anti-ageing' approach. In fact I was perfectly happy being sixty five and felt insulted by their rhetoric which was designed to make me feel bad about the 'seven signs of ageing' that their cream was going to magically remove (as if!)
So I started new makeup company called Look Fabulous Forever, with products specifically formulated for older faces, eyes and lips. I googled 'cosmetic manufacturers' and found one in Suffolk which could produce makeup to my specifications. I decided to risk some of my retirement savings to invest in this and enrolled all my friends (who were very supportive) and invited them to come along for a photo shoot of 'before' and 'after' images. It was very important to me that everything about the LFF brand would celebrate and embrace the ageing process, so I wanted to feature real older women, preferably ones who'd not had loads of 'work' done, so that i could show how brilliantly the makeup worked on women over sixty. We also made a couple of videos because I knew this would be a brilliant medium to show our potential customers how effective all the products were.
My message is 'ageing might be inevitable but you can still look (and feel) fabulous whilst celebrating and embracing your ageing self.' Here's some ways you can achieve that for yourself.
Ad. Article continues below.
Dry and crepey looking eyelids
The skin on our eyelids becomes thinner and may also become loose and stretchy as we age. I think it is important to ensure that the delicate skin of our eyelids is well nourished. I therefore apply the serum and moisturiser I use on my face to my eyelids as well to ensure that my eye area is properly moisturised.  I also use a special eye makeup remover at night (I like Clinique or Clarins for sensitive eyes). This ensures that the delicate skin of my eyelids is treated as gently as possible whilst being thoroughly cleansed.
Eyebrows and eyelashes
My brows are really quite alarming these days! The individual hairs are variously white or overlong and hooked in shape or they are very short and stick straight out instead of lying flat! I use a magnifying mirror and pluck out all the offending hairs. Then using our ingenious Brow Shape to recreate the illusion of beautifully balanced and groomed brows which give that all important framing to my eyes. I also prefer mascara which leaves my eyelashes pliable and silky rather than stiff and over-volumised because I think it looks more natural and less ageing.
Hooded Eyes
Ad. Article continues below.
We have a very popular video on this subject. Do please watch this if you have hooded eyes as you will learn a step-by step technique to disguise the hooded look with eye shadow. The trick is to think of the space between the eyebrows and eyelashes in 3 distinct areas: The brow bone should be light, the socket line should be dark and the eyelid should be light. So apply a highlighter to the brow bone and then apply a pale coloured eye shadow to the eyelid. Then apply either a slightly darker eye shadow in an arc of colour (following the shape of the brow) where the socket line should be. Blend well to create a subtle effect.
Messy eye makeup
Makeup just doesn't stay put on an older face, and eye makeup often looks really messy after a short while. The reason is that the skin isn't smooth as it once was and is also drier, so products get absorbed into the skin. The solution to this is to apply an eye primer. LFF flesh-coloured liquid primer is best applied with a brush and allowed to dry thoroughly. This will then keep all other eye products fresh looking for hours at a time.
Eye Liners
However attached you may be to your black eye liner I would say it might be time to re-appraise whether this still suits you! I always want to create the illusion of thicker eyelashes with some kind of line above them, but now I find a darker shadow pushed into the roots of my lashes with a small wedge brush looks far softer and more subtle.You can smudge the line slightly so that it doesn't matter if you cannot create an absolutely perfect line.
What's your must-have eye make-up product?