Kerri-Anne Kennerley stuns in 70s disco flares and wild jacket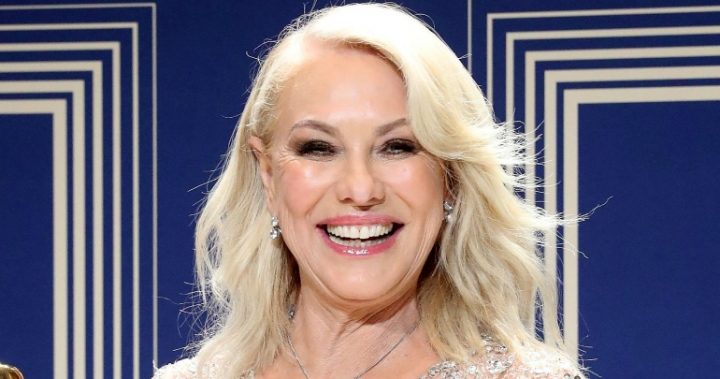 Kerri-Anne Kennerley certainly isn't afraid of making a bold statement when it comes to fashion, but her latest effort might be her most wild yet.
The beloved TV host attended the Cosmopolitan Women of the Year Awards luncheon in Sydney on Thrusday, where she was inducted into the Cosmo Hall of Fame, and look absolutely fabulous in a 70s-inspired outfit, throwing it back to the days of our youth.
Kennerley, 64, sported a black, embroidered pantsuit complete with an incredible flared leg and plunging neckline up top.
She wore a bright yellow top underneath her jacket for a pop of colour and paired the wild ensemble with a red Chanel handbag.
Ad. Article continues below.
She also kept things stylish with a staggering pair of platform heels — just like a true girl of the 70s!
She wasn't just there to show off her outfit though. Kennerley was honoured with on stage with her WOTY Hall of Fame induction for her work in Australian media.
The stylish host later told reporters that while her biggest fan was her husband, he wasn't always on board with her wild fashion choices.
Ad. Article continues below.
"I think my husband [John]! I would actually have to say that, although he does give me schtick a lot. In fact I walked out today, and he's gone, 'Really?'" she told Cosmo.
She also touched on the pay gap issue that has plagued Nine's Today Show and saw host Lisa Wilkinson quit in protest.
"I think the stories that have been running around with that issue being published, I have a slightly different view," she said.
"I think it threatens to dilute the broad gender pay gap, which is what women in coal face, who have to do quite menial jobs, who definitely a lot of the time can't get the shifts they want, to put food on the table and a roof over their kids' heads."
She added that she didn't want the issue to be "hijacked because of celebrity, and people in very highly-paid jobs".
What do you think of Kerri-Anne's outfit? Do you agree with her views on the pay gap issue for women?