Just Cruisin' - What to pack when going on a cruise!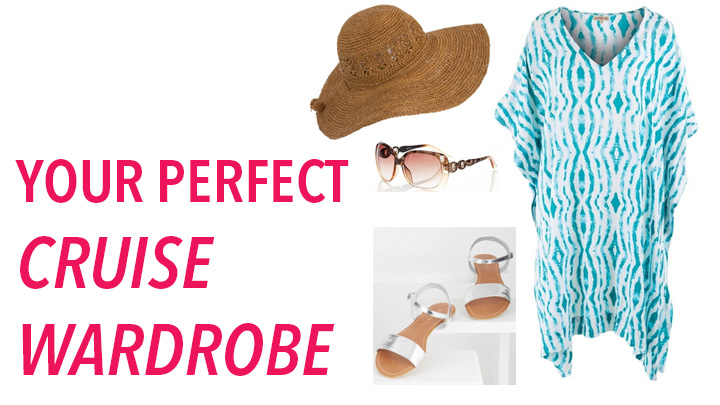 How exciting – you are about to go on a cruise! But what are you going to pack? Never fear, Starts at 60 Style have got you covered with our packing tips to keep you looking stylish on the tropical high seas.
First and foremost ensure that you are packing for the cruise destination. Go through the itinerary and start planning outfits around the places you will be going and the activities you will be participating in.  When I pack for any trip I lay out all of my outfits and their possible combinations on the bed to ensure that I have got everything covered – shoes and accessories included!
Keep it simple
When it comes to packing, stick to one base colour that you can co-ordinate everything else back to. That way all of your outfits and accessories will be able to mix and match. This makes it easy to create multiple looks out of a number of key pieces. You will end up wearing everything multiple times – but it will look different each time, because you will cleverly accessorize items differently and mix and match different pieces together.
Be prepared for all weather
Ad. Article continues below.
Just because you will be travelling to a warmer climb, it doesn't mean that you don't need to pack something warm. Out on the water it can get darn fresh & breezy. Also be prepared for rain. You don't want to be going ashore and getting a favourite pair of shoes ruined. Take a collapsible umbrella, a light rain coat and comfortable shoes for walking that you won't mind if they get wet and muddy.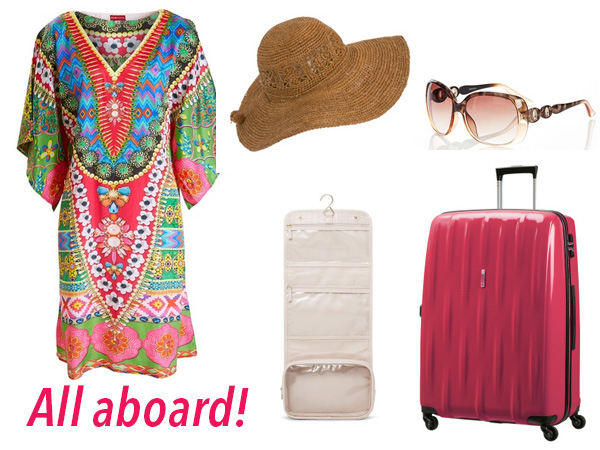 American Tourista waverider 75cm spinner
Ad. Article continues below.
David Jones beauty croc foldout cosmetic bag
Globetrotter havana gucci dress
Ad. Article continues below.
Kooringal ladies wide brim bianca hat
Millers belle classic sunglasses
Ad. Article continues below.
Your travel outfit
Wear something smart and comfortable. Put on the shoes that will take up the most room in your luggage, but ones that you would be happy to wear for the next few hours.  It is also a good idea to wear that hat you didn't want to get crushed in your luggage!
Carefully consider your carry-on luggage
This is so important as it can be hours before you will have access to the rest of your luggage.  In this ensure you have all of your travel documents, togs, sunblock, thongs, swimwear, a coverup and a change of clothes. Be sure to have any medications or toiletries that you might need.
Ad. Article continues below.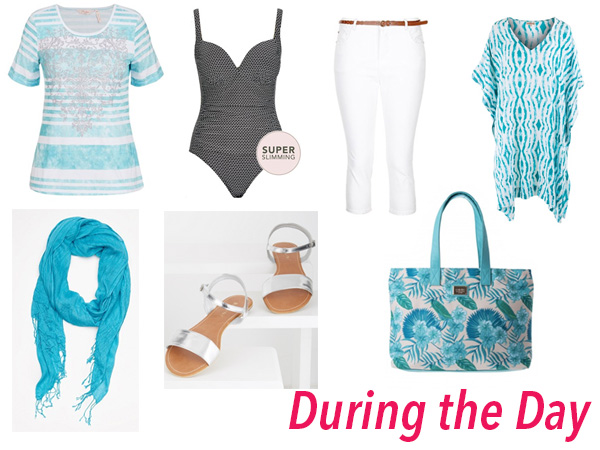 Crossroads belted cropped jean
Colette by Colette Hayman tallulah print tote
Ad. Article continues below.
TS14 love song scarf
Billini tabitha flat
Ad. Article continues below.
Millers graphic stripe top
Millers diamond one piece
Namastai printed kaftan
Ad. Article continues below.
During the Day

Your on-board casual attire
There is casual, and then there is casual. On a cruise ship what they really mean is smart casual resort wear.  Remember you will be dining out a lot and some of the restaurants will have dress codes that will need to be adhered to.  Even though you will be travelling to tropical climbs, layering will be key to ensure that you have all temperatures covered!  You don't want to be caught out in stinking hot humid weather with long polyester pants or shivering in something strappy.  If you layer your look, it will be easy sailing!  Also remember that decks can be slippery.  I would recommend  some low-heeled, rubber soled shoes for the ship.
Ad. Article continues below.
Another thing to consider is what leisure activities that you hope to participate in.  Make sure you have the appropriate attire for these.
 Your on-shore casual attire
Consider where you will be going. If you are going to some cultural destinations, like a place of worship, you may need to dress accordingly with respect to the local culture.  Don't forget to take adequate protection from the elements – like the sun and rain. Remember to pack comfortable walking shoes and other appropriate footwear  for all of your days activities onshore. Check your cruise for details.
Another thing to consider is choosing your bag wisely – you want to have your hands free to do lots of things and have all of your personal effects safe –  but you also want a bag that can carry a lot but isn't too heavy and not so bulky that you will be taking out displays in the local marketplace! Try taking one of those fold up into nothing bags inside to carry any extra knick-nacks. Consider using a stylish back pack.
key items to pack
Ad. Article continues below.
Minimum of two swimsuits
Sun shirt
Hat – broad brim and a cap
Sneakers
¾ pants x 2
T shirts x 3
Layering tanks x 4
Sarongs
Great coverups
Jeans – maybe a pale colour and a dark colour
Shorts
Casual pants
Maxi skirt
Daytime frock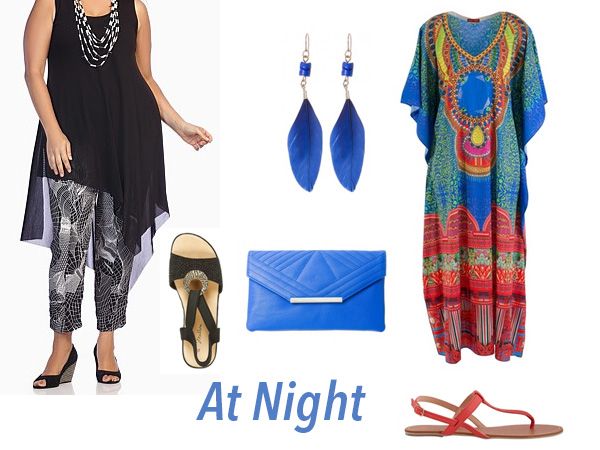 TS14 parfait tank
Ad. Article continues below.
TS14 she's electric necklace
TS14 web pant
Ad. Article continues below.
TS14 celia peep toe wedge
Globetrotter by Ruby Yaya mumbai maxi dress
Colette by Colette Hayman cut out shape multi earring set (part of set)
Ad. Article continues below.
Billini humble flat
Millers isabella bling sandal
Ad. Article continues below.
Colette by Colette Hayman geometric quilt clutch
At Night
Temperatures drop in the evenings, so remember to bring something to keep you warm when you are heading out.  You will be dining out, seeing a show and having fun.  Dress for an evening you plan to enjoy!
Ad. Article continues below.
key items to pack

Elegant, smart casual wear
Long jersey skirt
Long pants
Jersey frock
A few different fabulous tops
Cocktail wear
A cardi
A fabulous frock
stylish shoes
Don't forget to pack these key accessories to spice up your look!
Scarves
Necklaces
Earrings
Rings
Bracelets
Pashminas/wraps
At least two fabulous pairs of sunnies
At least one great handbag for day and one for evening – maybe a tote and a clutch.
Ad. Article continues below.
Helpful tips
Socks, trakkie daks and a ¾ sleeve cotton tee – my standard lounge about and sleep wear for inside the cabin.
Spare coathangers – I don't know about you but I always find that there are never enough coathangers. Try popping two or 3 plastic hangers into the bottom of your suitcase
Rolling your clothes instead of folding will help to alleviate any creases and allow you to fit in so much more.
Avoid things that need a lot of ironing – like linen or crisp 100% cotton outfits.  Opt for cotton & elastane blends, jersey, crinkle and quick drying fabrics.
If you don't want things to crease wrap them in tissue paper – time consuming and fussy, I know, but it sure does work!
One thing I will say is don't take anything that you would be devastated if you lost it. I have had hats blow off my head into the ocean and sunnies fall from my head.
Save some room
For all of the goodies that you are going to buy! Consider packing another empty duffle bag in your luggage that can be filled up towards the end of the cruise.
Ad. Article continues below.
Have we missed anything in the style stakes for your cruise? Please share any tips you have in the comments below!
Ad. Article continues below.
Ad. Article continues below.