Jessica Rowe's warts and all reveal about beauty and botox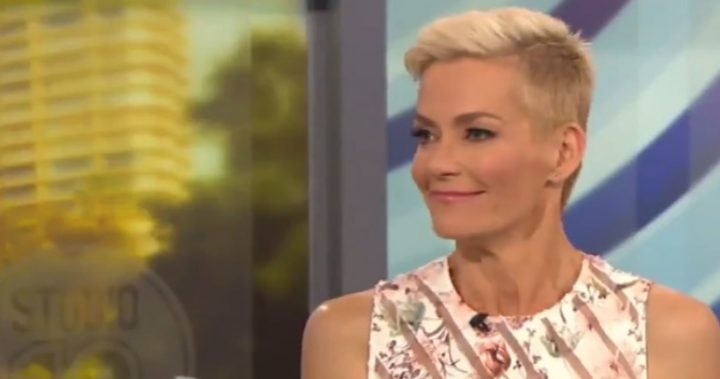 Jessica Rowe is a familiar face on morning television, as a co-host of Studio 10. The journalist, author, wife and mother has been open about mental health issues and the 47-year-old recently come on board as an ambassador for an Australian sunscreen brand Solar-D.
Starts at 60 chatted to her about beauty secrets, using botox and why she won't apologise for saying things other people consider dumb.
How has your self-confidence changed over the years?
The older I get the more comfortable I feel within myself. I wouldn't want to be a teenager again. Those years I remember worrying about my acne, whether I would ever be asked out by a boy and if I would get good marks in my final exams. I love that I care less about what other people think about me now and that awakening is incredibly freeing and exhilarating. It means I snort when I laugh, dye my hair pink and own my vulnerabilities. My husband just thinks I'm getting more eccentric the older I get, but he wouldn't have it any other way! Life would be terribly boring…
What are the five things you couldn't live without in your beauty kit? 
Ad. Article continues below.
I have Solar D Daily Face sunscreen in my bag; I really like the sunscreen as it's non-greasy, light and protective but still allows you to get the benefits of the sun. To help prevent further wrinkles and pigmentation I am diligent about protecting my skin with a sunscreen product like Solar D! A lovely friend of mine, Ingrid Seaburn also recently introduced me to an American brand called Osmosis and I love their serums and moisturisers. I'm also addicted to bright pink lipstick, glitter eyeshadows and eyeliner.
What's the best piece of beauty advice you've ever been given?
Denise Drysdale, who has become a darling friend of mine, told me I need to use a face washer to wash my face instead of soap. Also she swears by baby oil to remove your eye make as it is really gentle on your skin.
What about internal beauty. What tips do you have to feel great?
I'm not a very strict person! For me life is all about balance. I'm not into green juices or supplements as I believe you need to be able to indulge and enjoy life whether it is a glass of wine, chocolate or a yummy meal. At the same time you also need to look after yourself, eat well and treat your body with care, so balance is key. For me, I love Pilates, reading my Kindle and sitting outside in the sun every day to get my daily dose of Vitamin D.
Ad. Article continues below.
You admit to using botox, and I'm sure our readers would love to know what it's like!
I get my Botox done by a qualified surgeon who really takes his time to look at your face and where you might need a 'sprinkling' of Botox. He then uses a black marker to put dots on the places where he will inject the needles. He then injects those areas and it doesn't hurt much and I figure that the pain is self-inflicted so I'm not going to complain! Afterwards my skin is a little red in the areas where I had the injections but that disappears pretty quickly. For me, I start to look 'fresher' and 'smoother' within a week or two. What I also like, is that my doctor uses the Botox sparingly so I get still move my face! I don't want to look like one of those frozen Hollywood types. I have it done every three to four months. My husband thinks it's stupid but frankly it makes me feel better.
Ad. Article continues below.
Tell us about the Solar D campaign. 
I was first introduced to the Solar D brand when fashion stylist Jules Sebastian came on Studio 10. She was an ambassador for the brand and gave me some samples to try out. Until then I was unaware that many of us these days have Vitamin D deficiency and do not even know it. I really love the idea that Solar D is both protective but still allows you to get the good stuff. It's good for all of us! I also absolutely loved Matt Colett's (Solar D CEO) passion and I know he has spent a long time on developing the perfect formula for Solar D.
I'm someone who doesn't go into things unless I really believe in it. This is the first real skincare product I've been aligned with. I believe in the product and I have the confidence in it, so I'm proud to be an ambassador for Solar D.
Did you spend a lot of time in the sun when you were younger?
Ad. Article continues below.
In the past, as a teenager I was terrible at looking after my skin! My girlfriends and I used to lie outside in the sun and have competitions to see who could get the brownest. We used to absolutely fry ourselves before we were aware of the real damages. Eventually I realised and learnt (especially with my profession) how important it is to protect your skin so I wear sunscreen and a hat every day.
How do you cope with the lifestyle that fame brings while also raising a family?
As I mentioned, I now care less about what people think and so I'm simply myself, warts and all, on and off camera. I don't feel like I have to apologise when I say dumb things or the fact that I'm a terrible cook (I call myself a crap housewife). I'm always on the look out for good mince recipes! Like all mothers I do my best and I'm far from perfect. Life is messy and chaotic sometimes and we all have our things we struggle with so I don't beat myself up over the little things.
Can you relate to her outlook on life?