How you can style yourself to look 5kg thinner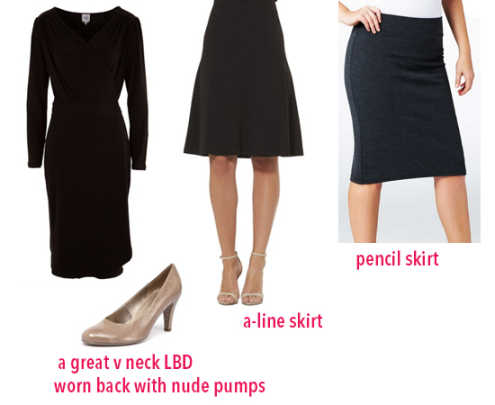 It turns out the bigger we are, the bigger we tend to dress to disguise our size.
The only thing wrong with that is that it actually makes you look even bigger than you are.
No more tunic tops or shapeless outfits! It is time to make the best of what you have got and play down the rest for a slimmer and happier you!
Here are our top tips to dress slimmer than you are:
Ad. Article continues below.
1. DEFINE YOUR WAIST
This might sound crazy but it is true. One of the best ways to do this is to wear something that nips in at the waist, skimming the body or to wear a wide belt with some stretch. Do not wear a thin belt as it will make you look bigger and it can emphasise any bulges that might start to poke out over the top of a thin belt.
2. HIGHLIGHT YOUR ASSETS and DISGUISE YOUR FLAWS
Draw attention to what makes you look beautiful. It might be your hair, eyes, legs, your cleavage – whatever it may be, keep the focus of your look on these features and that is what everyone else will focus on too! That way they won't even notice the rest!
But just to ensure they don't, make sure you disguise the parts of your body that you feel uncomfortable with so you don't draw attention to it.
Ad. Article continues below.
4. WEAR A SMALL HEEL
Wearing heels lengthen the legs and completely change the way a woman walks and holds herself. Pay careful attention to the type of heels you choose. Sometimes very thin heels, like a stiletto, can make an already plump woman look clumsy. Choose a wedge or a good solid heel. Nude shoes are ideal to give the impression of endlessly long legs.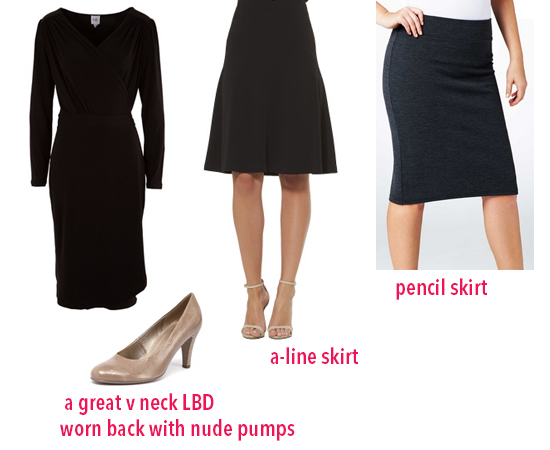 Ad. Article continues below.
5. PUT YOUR HAIR UP
Yes ladies – get it up off your neck and shoulders. This is instantly slimming. Remember to keep the look soft – nothing harsh scraped off the face.
Or according to the Nanny, Fran Drescher, 'The bigger the hair, the smaller the hips will look." It certainly worked for her – she always looked incredibly slim to me!
Ad. Article continues below.
6. CREATE VERTICAL LINES
There are so many ways to create vertical lines in a look. A v-neck line. An open jacket. A waterfall cardi. A long pendant necklace. Stripes that go up and down the body – not across.
7. USE A SLIGHTLY OVERSIZED STRUCTURED BAG
Whoever would have thought, right? But a teensy, tiny bag can make you look bigger. Whereas carrying a larger glamorous bag that is not shapeless will create the illusion that wearer is slimmer than she actually is.
8. GO A-LINE
Ad. Article continues below.
Yes. Just like the v-neckline creates depth with an inverted triangle drawing the eye downwards, the a-line skirt or dress will draw the eye back up to a smaller waist.
9. WEAR THE CORRECT UNDERGARMENTS AND GIVE SHAPEWEAR A TRY
If your undergarments are ill-fitting, whatever you put over the top will never look good. Get these basics right with a professionally fitted bra and full briefs. Shapewear can work wonders by smoothing out any undesirable lumps and bumps creating the illusion of a fit and toned torso.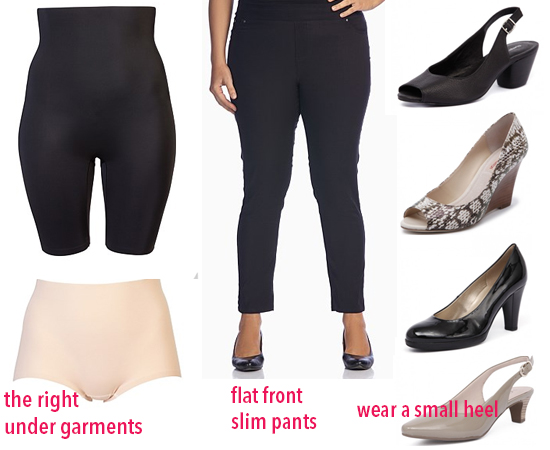 Ad. Article continues below.
10. WEAR SOMETHING THAT WILL SKIM YOUR CURVES
If a garment is hugging in all the wrong places there is a good chance it is the wrong size. I am all about embracing your curves – but make sure they are being enhanced and not strangled!
11. WEAR ALL ONE COLOUR
From your shoes to your pants, top and bag – keep it all the same. It creates the illusion of a longer leaner silhouette. Choose your colour carefully. Black and navy are instantly slimming. Be careful of choosing pale wishy-washy colours they reflect the light and actually make you look bigger.
Ad. Article continues below.
12. GET YOUR PROPORTIONS RIGHT
This is so important ladies. If you are going short and boxy on top, go long and lean on the bottom. The reverse applies also. If you go full and boxy on top and and full and boxy on the bottom half – guess what? Your overall look will be full and boxy. Accentuate the slimmest part of your physique with proportions. Try wearing a fitted top with palazzo pants or a tunic top with slim leg pants.
13. GO DARK
We all know that darker colours make things look smaller and lighter ones look bigger – right? A great tip for when you are layering also: wear the darker colours closer to your body and put the lighter ones on top, this will have an instantly slimming effect.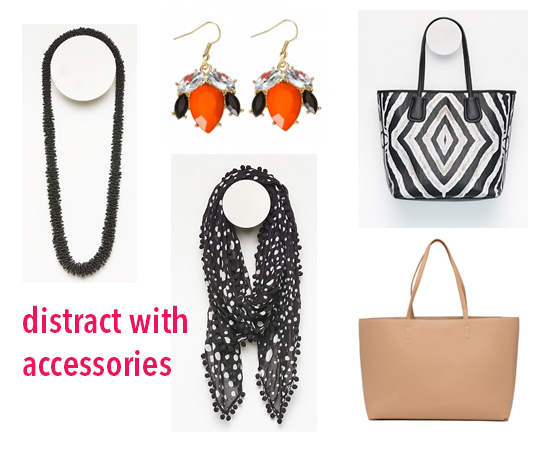 Ad. Article continues below.
Key pieces to have and looks to try
An embellished top back with slim black pants
A pencil skirt
A little black dress
A great v-neck dress that is nipped in at the waist!
Black flat front pants that are straight legged . Choose a pair with some stretch.
Always avoid thin waistbands, they will emphasize any bulges
Fabrics with a hint of stretch in them will be better to wear. They will be more comfortable as they will move with you and will help to define your shape.
Distract with accessories
A long statement necklace – will make you appear longer and leaner
A fabulous bag
Earrings
Choose garments with interesting necklines
Ad. Article continues below.
Remember what Bill Blass said: :If in doubt wear red". Red will absorb light and still look fabulous. Every woman looks beautiful in red!
Ladies, do you already apply any of these tips to the way you dress? Do you have any different tips that you would like to share?