How you can deal with your thinning hair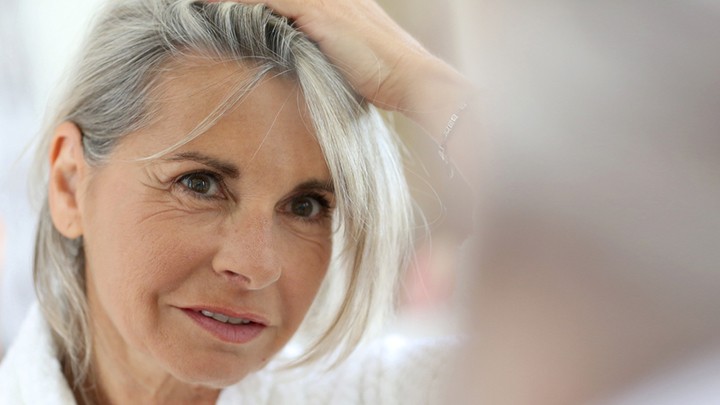 If your luxurious thick hair is something you used to be proud of, or you're despairing it because it's become thin, then there are ways you can make it better.
Thinning hair is perhaps the most depressing sign of age that we experience and it is almost universal – it's rare to meet a mature woman with "young" hair. I have lots of tricks and have tried lots of products that can help you, so let me share my secrets with you.
Thinning hair begins to occur after menopause, or when we finish HRT and oestrogen levels plummet. It will be more noticeable in our 60s and 70s. There are over-the-counter medications available that may help – I have read that Minoxidil is worth a try, but may only be available online so have a discussion with your pharmacist. Also, mention thinning hair to your GP in case it is a side effect of medication that you are taking. He may want to check you out in case it is a symptom of an underlying condition. However, if you do have to resign yourself to the fact that your thinning hair is a sign of age, be prepared to call "all change" and work on making thin hair look thicker. This might involve going shorter; just above the earlobes is ideal and going shorter can take 10 years off your age too. Also, going curly/wavy may be an option and is feminine and flattering. You may have to dispense with the ultra-short, sticking-up-on-top, electric shock style and create more length and softness to frame the face and take away any hard, severe look which does not really suit an older woman. Drab days are over, it's time to tackle thinning hair head-on (to coin a phrase) as, out of necessity, a new look is born.
Ad. Article continues below.
NECESSARY PRODUCTS AND TOOLS\18
Volumising shampoo and conditioner
Styling mousse.
Styling lotion.
Moroccan oil.
Hair dust.
Smallest size velcro curlers.
Hand mirror
STOP PRESS: Just heard on the grapevine that Schwarzkopf is about to launch a range of products especially for the mature age lady!
Quite a lot of product, with the emphasis on volume is necessary because our aim is to coat each individual hair with product to give an overall appearance of stronger, thicker and more luxurious locks.
TIP: Every time volumiser is used, rub it into the hair with your fingertips – use an action like rubbing butter into flour to "rough up" the hair cuticle and make hair appear even thicker.
Ad. Article continues below.
THINNING STRAIGHT HAIR
Choose a style that leaves the hair about eight or so centimetres long.
On non-shampoo days, moisten dry hair with volumiser and rub it into the hair.
Roll up with the small sized velcro curlers, spray lightly with hairspray.
Do this first thing before your shower and remove the curlers last thing – say 20 or 30 minutes later.
Brush out hair, backcomb a little, rub some hair dust (about half a teaspoon or to suit) into the hair roots in the thin spots if necessary.
Rub styling lotion onto your hands; not too much, and scrunch all over, backcombing and arranging a bit more until you are satisfied. The result won't be really curly, just softly waved and manageable.
Check and recheck with the hand mirror.
You probably won't be able to use the velcro curlers low on your head because of the shorter length of the lower hair.
Now spray with hairspray and a bit of extra over those thin spots.
I recommend that you shampoo every third day. On shampoo days apply styling mousse and volumiser to towel-dried hair.
Rub in the volumiser.
Dry off a bit more with the hair dryer.
Work in a tiny drop of Moroccan oil.
Now put in the velcro curlers and spray with hairspray.
You may need to leave the velcro curlers in a little longer.
Finish and style as on non-shampoo days
THINNING CURLY HAIR
Choose a shortish style – say 10 or so centimetres long when the hair is wet and pulled out straight; allow for the curl uptake. The routine for curly tops with thinning hair is almost exactly the same as for thinning straight hair.
On non-shampoo days use volumiser to dampen your hair before styling. Remember to rub it into the hair.
I am suggesting that you too roll up with velcro curlers, but not necessarily the smallest size – choose a size that will give fullness but not frizz. Using the curlers will make your curls more manageable.
Put in the velcro curlers before showering.
Spray lightly with hairspray.
Remove curlers 20 minutes later.
Brush out the hair and backcomb a little, especially over the thin spots. Dab a small amount of hair dust (about half a teaspoon) on the roots if necessary.
Rub some styling lotion on your palms and fingers and arrange your hairstyle, scrunching as you go. Carefully cover the thin spots.
Check and recheck with the hand mirror, backcombing a bit more until you are satisfied.
Spray lightly with hairspray – it's nice to leave a bit of bob in the curls, but put extra hairspray on any places where you have covered thin spots.
On shampoos days (I recommend about every third day for curly girls too), add styling mousse and rub in volumiser to towel-dried hair.
Dry off hair a little more with the hair dryer, work in a tiny amount of Moroccan oil and roll up with the velcro curlers.
Spray with hairspray. Finish and style as on non-shampoo days and enjoy your froth of curls.
As with straight hair, quite a lot of product is used to coat and make every individual hair thick to give an overall appearance of strong, thick hair.
Ad. Article continues below.
I know that this routine may involve some extra time and work; perhaps about 10 minutes on top of your usual routine. Adjust and refine these ideas until you are satisfied. An advantage of being older is knowing what suits us, but don't be wary of change. Dealing with an unexpected thinning hair conditions requires new thinking, different hair products, a new hairstyle and a bit more work. Be ready to take the comment "I didn't recognise you" as a compliment.