How to store your winter clothes so they last longer and smell fresh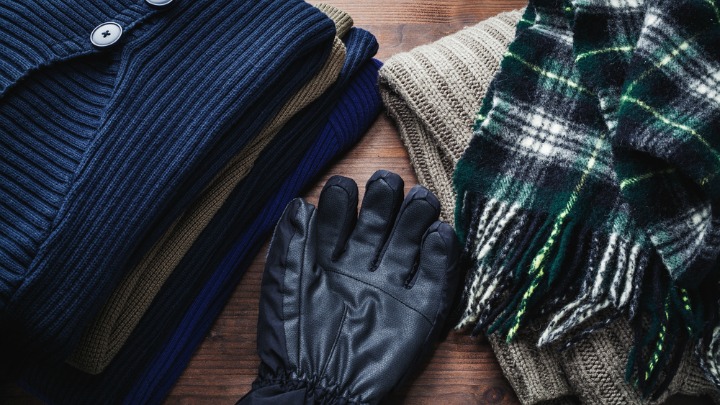 It's that time of the year again where we're starting to put our bulky winter clothes away. To make sure that your winter gear will come out fresh and nice in the next winter, there are a few things you can do. First, you'll need to clean everything before you get started. According to Good Housekeeping, oils (deodorants, perfumes) can discolour fabric over time and food stains will attract moths. Low light and low humidity are ideal and don't store in dry-cleaning bags as they can yellow fabrics and trap moisture. Also, avoid ironing with starch — bugs love it! Once all your winter gear is clean and fresh, store them like this…
COATS
Do up buttons, zip up zippers, and empty out pockets; then hang structured or down coats on thick wooden hangers inside a breathable canvas garment bag. Polyfill-stuffed coats can go in vacuum-seal bags, compressed halfway for space.
ACCESSORIES
Place gloves and rolled-up scarves loosely together in a plastic bin. Stuff shaped hats with tissue paper before placing in a hatbox or another breathable container.
BOOTS AND SHOES
Remove dirt from rubber and lug soles with a wire brush, then clean the rest with a shoe brush. Sprinkle in baking soda, tuck in shoe trees or stuff legs shortened pool noodles or white tissue paper. Store boots upright.
Ad. Article continues below.
SWEATERS
Fold into thirds, then in half, and stack in a plastic bin with heaviest knits on the bottom. Place white tissue paper between layers if colour transfer is a concern or to keep any embellishments from snagging.
AVOID MOTHBALLS
If clothing isn't put away properly, bugs and mold are more likely to attack. Although mothballs seem like the number one way to combat pests, they are actually bad for storage, says Huffington Post. Mothballs not only smell terribly, but the materials used to make some of them have come under scrutiny in the past. As alternatives, the experts recommend components like cedar (in any form), lavender sachets and even lemon peel rinds, which keep items dry and nice smelling. Be careful around cedar, though, as it can be too drying. "The problem with cedar is that it dehydrates anything that's around," Scott says, and when natural materials like real fur and leather come into the picture, "it pulls the oils out." When these oils are removed, those fabrics become brittle and shed or crack.
Are you starting to put your winter woollies away? How do you normally store your winter items?