How to rock the floral print for any body shape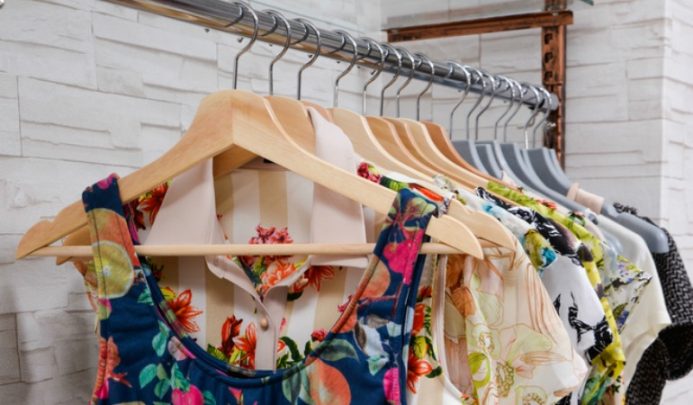 Floral prints are big this season. And by big I mean huge, giant flowers from head to toe. It's a great way to embrace the warmer months, but it's not that easy.
If you have a preference for plain and simple it can be hard to adjust. They aren't always flattering either, depending on your body shape (and height).
It's a look that doesn't always work, but here's how to get it right and not end up looking like a bouquet.
Or like this.
Ad. Article continues below.
Just a touch
If you are not ready to go the whole hog with your floral print, you can still add a lovely touch to any outfit. This is great for many body shapes, as you can choose the floral for the parts of your body that are the smallest. They are also great for pear or apple body shapes, as you can wear a floral print top and then alter the shape with a jacket.
The Handmaid's Tale star Elisabeth Moss rocked this vinyl jacket with a floral print during New York Fashion Week.
Speaking of jackets, the author of The Handmaid's Tale, Margaret Atwood, wore this stunning double sided number to the Emmy's award night of nights.
Ad. Article continues below.
Base tone
Moss also showed she could wear a much stronger floral print while attending an event in Beverly Hills last month. With the base colour being black it showed off her curves without being too bright for the eyes.
Nicole Kidman did a similar thing at the premiere of her movie The Beguiled. It's a fun and feminine look without being too in-your-face, and added some fun and shape for her long lean lines.
Ad. Article continues below.
Another way to work with a base tone is to wear florals to give a lovely touch of colour but then soften the look with another plainer piece over top. Mary Berry does it well at the Chelsea Flower Show with this lovely long coat with the florals peeking through but it works the same with a lighter overblouse too.
Embroidered
Embroidery is another big look this season too, and what better to have embroidered than a lovely floral design. You don't need a lot to make it look good though. Gently does it!
Ad. Article continues below.
Jessica Lange rocked the red carpet at the Emmy's with this stunning golden trim on her elegant dress. She might not have won the award she was nominated for but she still won in the fashion stakes.
It's a similar look that Julia Louis-Dreyfus also wore to the same event, although she did go home with the award for best lead actress in a comedy for her role in VEEP. It just sets off a simple style dress to make it stand out that little bit more. 
Read more: Julia Louis-Dreyfus diagnosed with breast cancer. 
Ad. Article continues below.
Girly-up a mannish look
Salma Hayek shows a classic example of pretty florals that soften the look of a man-style suit while attending the UK premiere of Mother earlier this month. It's a great way to both downplay the girly look of a floral and tomboyish look of a straight suit. 
Look at the details
If you are thinking of someone who knows their fashion it has to be Vogue editor-in-chief Dame Anna Wintour. The 67-year-old showed just how stylish a floral print can be in this stunning coat dress. The detail of the print not only gave a lovely colour it also accentuated her figure by giving shape to what is often a shapeless style. This is a great look for those who have a straight up and down figure, and want to create the illusion of curves.
Ad. Article continues below.
No matter what choice of floral you decide to go with, the best piece of advice of all is to wear it with confidence! 
What's your favourite type of floral print?