How to make thinning hair luscious again!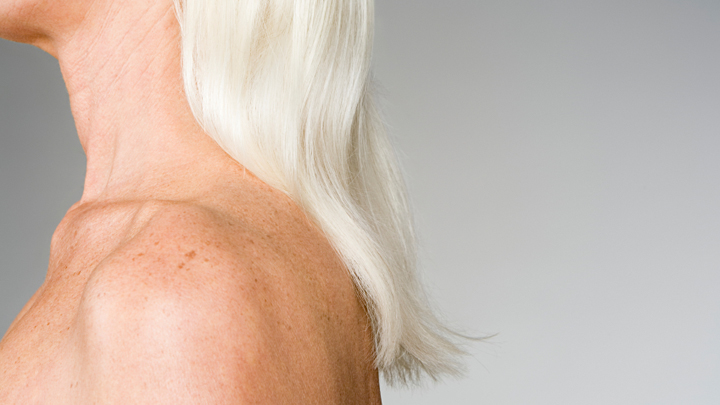 Have you got thin hair? You're not alone! Here's some simple, easy ways to get it looking luscious again, without resorting to costly measures.
1. Limit washing and dyeing frequently
One of the most common mistakes we can make with thin hair is to wash it too much. Chemicals in shampoos and conditioners can make your hair weaker, and get rid of those crucial oils that keep hair strong. Similarly, dyeing regularly can cause breakage. Try to stick with a hair style that doesn't require a lot of maintenance
Ad. Article continues below.
2. Eat a healthy diet
Weak and thinning hair can be caused by what you do to your hair, but it can also be brought on by what you do to your body. An unhealthy diet can lead to hair falling out, as healthy food provides energy for hair growth. Include iron-rich protein in your diet to feed your scalp and hair what it needs to build keratin and stimulate growth. Consume lean meat, fish, low-fat cheeses, egg whites, spinach and soy to get a great shine.
3. Coconut oil
Coconut oil makes your locks shinier and more manageable, not to mention a lot cheaper than some expensive products that do the exact same thing. The natural lubrication provides nourishment to the hair, from roots to tips, so it is just like a hot oil treatment for a fraction of the cost. In addition, the nutrients present in coconut oil prevents hair loss, which is a God send, especially for women with brittle, sensitive, or damaged hair.
Ad. Article continues below.
Apply the oil on your hair and let it sit for 10-15 minutes, preferably while covered.
4. Eggs
For a protein hair treatment, the best ingredient is eggs. Take one or two eggs, depending on the length of your hair, and beat it properly. Apply the egg on wet hair and allow it to sit for about 30 minutes. Wash your hair with lukewarm water and shampoo. You can use this protein treatment once or twice a week.
5. Olive oil
Olive oil will add body to your hair – massage your hair and scalp with warm olive oil and leave it on for at least 30 to 45 minutes. Rinse it out thoroughly and wash your hair using a mild shampoo.
Ad. Article continues below.
6. Avocado
Avocado moisturises and adds body to your hair as it is full of good fats.
Mix one mashed avocado, one mashed banana and one tablespoon of olive oil and massage it on your scalp. Leave the mixture on your hair for about 30 minutes so that the nutrients are absorbed by the scalp. Finally, rinse it out and shampoo your hair.
7. Onion juice
It sounds wrong but in fact, onions are one of the best natural remedies for combatting hair loss. Onions are packed full of sulfur which stimulates the production of collagen in your skin. Lack of collagen is one of the biggest causes of thinning hair. Simply squeeze out onion juice as you would an orange, and apply around 20ml to your hair. Leave for 10 minutes, rinse thoroughly and wash as normal.
Ad. Article continues below.
8. Herbal rinses
The following herbs can be steeped in boiling water, strained, then cooled to room temperature to create an herbal rinse for the treatment of hair loss.
Basil: anti-inflammatory properties, strengthens hair against breakage, improves circulation in the hair follicles to stimulate new growth.
Licorice root: treats dandruff, heals fungal infections and reverses chemical damage of the hair and scalp.
Ad. Article continues below.
Stinging nettle: stimulates growth of new hair while preventing baldness.
Watercress: packed with vitamins and minerals including zinc, iron, and biotin.
Tell us, have you experienced hair loss in your 60s? How have you dealt with it? Which of these will you try?