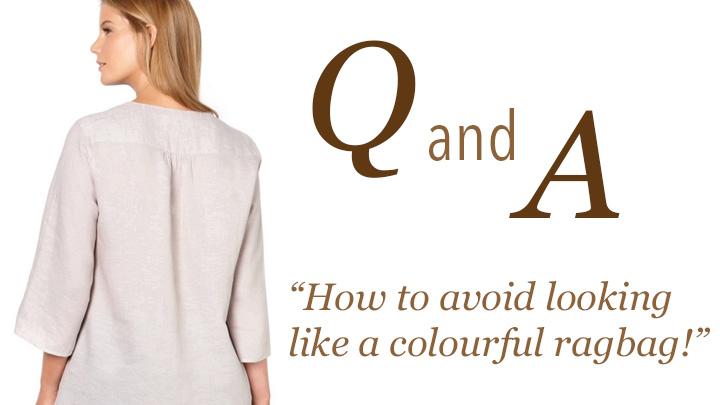 Your questions answered! One of our Style at 60 community members has asked:
"I am short and a size 16. I have trouble getting stuff to look neat without looking like a colourful ragbag!" – Margaret Preisig
Margaret, I answered a similar question along these lines recently.  You will find some very useful tips in this article.
However, I will touch on something you have mentioned which is the term 'neat'.  I think that there are ways all women can achieve a neater look overall.
The outrageous Patsy and Eddie with Stella McCartney at the British at the 2015 British Fashion Awards.
Make one thing in your overall look the focus.
If your outfit and accessories are too busy, everything will be competing with each other and your look will be all over the place.  Here your hat will be the dominant accessory.
Stick to one or two colours. 
This tip is a sure fire winner.  It keeps your look clean and smart.  In this look below, I have stuck to a very neutral palette.
Wear clean lines.
Avoid ruffles, frills, gathers, busy details, large prints, hanky hemlines.  Just keep it simple.
Avoid chunky shoes
And actually avoid extra fine ones as well.  Stick to elegant shoes with a small heel if possible.
Add some polish to your look. 
Pay extra attention to the finer details.  Wear a gorgeous colour on your lips – and keep your make-up light and fresh.  Style your hair in a sleeker style for a change.  Polish your nails. Wear a fabulous accessory, like this bracelet.  Just do something to make you feel good.  Others will notice this and it will make you feel even better!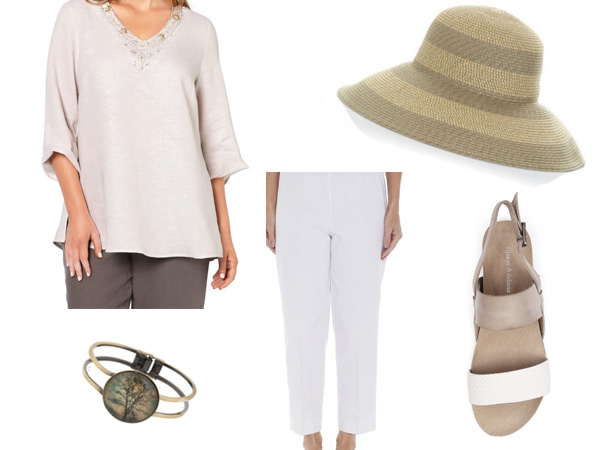 Maggie T embellished tunic
Black Pepper liberty 7/8 pant
Django and Juliette logo ice cut sandal in taupe
Sportscraft Lizzie hat
Nest of Pambula owl tree cuff bangle
I have enjoyed answering this for you Margaret, thank you.
Do you have any more tips for Margaret?  Please send us your questions!  We are waiting to hear from you!
Comments