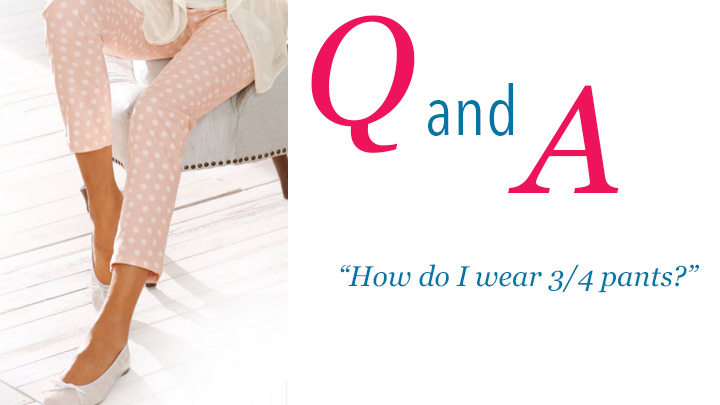 One of our Starts at 60 Style community members has asked:
"What is it with ¾ pants?  They don't suit me at all!"
Alison McGregor
Alison thank you for asking this.  When it comes to ¾ pants it is important to get the correct length for you.  If they are too short they will cut you off at the widest part of your calf and make you look stumpy –  and this is NOT  a good look!  If you already have big calf muscles they will be highlighted and look enormous.
According to Tim Gunn, "the baggy cargo capri is the single worst item of clothing in America today!"
In a country like Australia our lifestyle and climate really lend themselves to capris.  You just have to choose the right pair!
What is flattering for most is a 7/8 pant which is slim fitting.  You want your pants to finish where your leg naturally dips in at the ankles.  If you wear a shoe with a small heel it will also help to elongate the legs.  A longline tunic will always look good with your capris.  You can also wear a shorter top or one tucked in.
Sportscraft eva capri
Heine printed pants
TS14 editorial pant
I hope this is helpful for you Alison!
Do you have any tips for Alison?  Do you have a question that you would like us to answer for you?
Comments