Helen Mirren steps out in her favourite turban hat again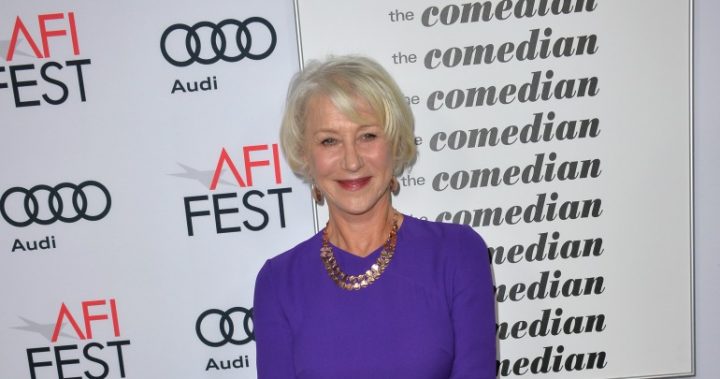 Helen Mirren certainly knows her style and she doesn't mind repeating herself!
Stepping out to support her husband, director Taylor Hackford, at the New York screening of The Comedian, Helen looked stunning in her lemon yellow coat paired with lace, leggings and black leather gloves.
But it is her black satin headwear that caught everyone's attention.
The 71-year-old was also pictured wearing the turban at a Hollywood event last year when she accepted a charity award for her work with the Stuttering Association for the Young.
Ad. Article continues below.
Read more: Helen Mirren walks the red carpet in a glamorous turban
She looks fabulous in it, so why not wear it again?
She paired the stylish headpiece with a fur (fake hopefully!) stole and seemed to be in very high spirits all night long as she celebrated Taylor's success.
As well as being a fabulous actress, known for her roles in The Queen, Calendar Girls and Gosford Park, Helen is also recognised as a style icon for the over 60s.
Ad. Article continues below.
In a world where it is often difficult to find anyone over the age of 50 flying the flag for stylish baby boomers, it's nice to see Helen giving it a red hot go!
Described by In Style magazine as a stunner on the red carpet, Helen has had many different looks over the years, but has always stayed confident and classy.
Even at the ripe old age of 71, she's still being referred to as a sex symbol and rightly so!
A couple of years ago, photos of her in a red bikini went viral. Despite all the positive attention she has said she hates the photo as it puts so much pressure on her to maintain her sex appeal.
Ad. Article continues below.
We say just carry on doing what you're doing, Helen! A class act all the way, don't you think?
 
What do you think of Helen's headwear? Is this something you would add to your wardrobe?