Helen Mirren stands out in cute, colourful dress any woman could wear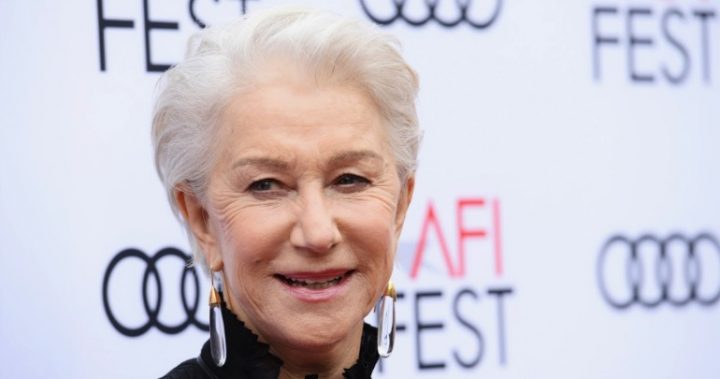 Even if you're not someone who takes style tips from celebrities, occasionally you spot a pretty item that would work for most women – and this dress is it.
Helen Mirren was posted a picture of herself wearing what looked like a simple dress with a fitted bodice and patterned skirt, with striking red ankle boots that picked up the red in the dress. Mirren looked like she was mid-fashion shoot as she posed on some outdoor steps, with her hair swept to the side and drop earrings that matched her simple black overcoat.
The 72-year-old might have been at a photoshoot, but it's an outfit with plenty of casual glamour that would look lovely at a girls' lunch or day out. The skirt has a flattering below-the-knee hem length, and the boots are low-heeled enough to be comfortable for walking and far more practical than high, strappy sandals.
Ad. Article continues below.
Mirren posted the picture just after she shared a glimpse of herself at home and relaxing, happily dropping the 'I'm always perfect' facade many celebrities favour. The actress posed without any make-up on, close-up to the camera – and looked perfectly comfortable doing so. She was outside to watch the super blue blood moon, but admitted it looked "red" over Los Angeles.
Smiling happily, the star looked very different from her red-carpet appearance and at ease as she held her fingers up to mimic holding the moon in the distance. Fans heaped praise on her for the post, with one writing: "You are adorable!!", while another added: "So beautiful, best pic I've ever seen of you, natural and spot on." Another commented: "Superb, awesome, unique."
Ad. Article continues below.
It's not the first time Mirren has been open about the amount of work that goes in to her glamorous public appearance – she often posts snaps of her beauty team and stylists working on her face, hair and clothes, and readily acknowledges the big part they play in how she looks in public.
Shortly after that, she added a behind-the-scenes flashback photo of when she appeared on The Graham Norton Show recently. Mirren was praised by viewers for her style choice, as she chatted to the host and fellow stars in a flattering white knee-length dress.
She was reunited with her ex-boyfriend Liam Neeson on the show, after they dated in the 1980s. Proving there's no bad feeling whatsoever, the pair laughed and joked with the host and looked completely relaxed in each other's company.
Read more: Did you know they dated? Helen Mirren reunites with ex Liam Neeson
Ad. Article continues below.
The pair dated from 1980 through to 1985, but their romance has remained fairly hidden in the public eye as it took place before the internet took off. However, Mirren hasn't tried to hide it, and according to Vanity Fair, she even fondly remembered a camping trip they embarked on together, during a 2015 appearance on Good Morning Britain.
Ad. Article continues below.
"We went camping in Cornwall. He loved camping as well. And we had this little car and Liam is 6'4 … his head was sticking out of the car, really. We had our tent in the back and all our little stuff, our little stove and everything," she told the show. She went on to describe them pitching the tent, but as she described the "p***ing rain", the hosts cut her off for the bad language – and viewers weren't given the chance to hear the end of the story.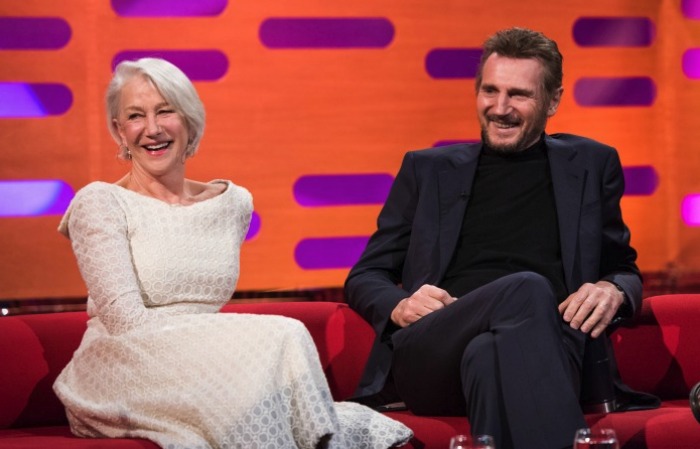 According to the Mail Online, Mirren previously said of their relationship: "We loved each other. It was difficult to let go."
Ad. Article continues below.
They were joined on the sofa by Fifty Shades of Grey actor Jamie Dornan and musician Sigrid. Mirren is now happily married to director Taylor Hackford. Meanwhile, father-of-two Neeson was married to the late actress Natasha Richardson, before her tragic death following a ski accident in 2009.
Are you a fan of Helen Mirren's? Do you like her outfit?
---
With Facebook removing news sites from your feeds we ask that you sign up for Starts at 60's emailers here. And to keep us on your wall, join some of our new Facebook groups and clubs:

News Junkies Club – Australia
News Junkies Club – USA 

See news on the change and links to all our other clubs and groups here.