Helen Mirren says it's about time beauty brands embraced wrinkles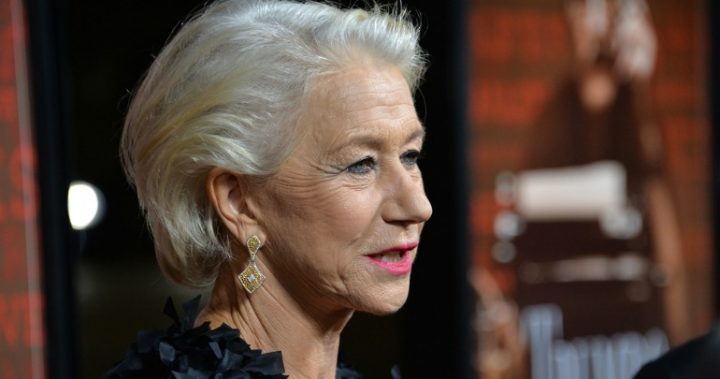 Helen Mirren took to the stage at Cannes Lions International Festival of Creativity to talk about the beauty of diversity.
It was that diversity that allowed her to win a beauty contract two years ago at the age of 69, the actress said.
"I thought, at last, there has been a shift [in the industry] – I'm talking about age and beauty, but also diversity," she told the audience of advertising pros. "That was an amazing moment when L'Oréal stepped into that space and allowed women of all ages to be able to be a face for the brand."
It should have been no surprise to anyone at the event that L'Oreal would want the actress to represent it. Mirren sported minimal make-up and a youthful glow in a simple black-and-white polka-dot dress that hugged her figure, and was offset perfectly by a delicate pearl-detail necklace and bright heels.
Ad. Article continues below.
During the talk, titled All Worth It: L'Oréal and Dame Helen Mirren Redefine Diversity, Mirren opened up about her own insecurity. Never shying away from the tough topics, she even threw in a few swear words that had the audience giggling.
"I'm sure many people believe you don't have any self-doubt," one of her fellow speakers noted. "Well, I'm a good actress," Mirren replied with a laugh.
Read more: Helen Mirren steps out in two different stunners
Mirren was named an ambassador for L'Oréal Paris in 2014 at the age of 69. She said she was proud to be part of the team when L'Oréal and the Prince's Trust joined forces to create the All Worth It initiative, which will offer confidence training to 10,000 adults in the United Kingdom.
Ad. Article continues below.
Speaking on the panel, Mirren stressed the importance of remembering that everyone suffered from self-doubt or insecurity at some point in their life.
"Sure, you're insecure but so what? So is everybody. So what? Get on with it," she said.
You can watch the full talk in the video below.

What do you think of Helen Mirren's no-nonsense attitude? Has she hit the mark with her comments?