Flattering fashion for when you're losing weight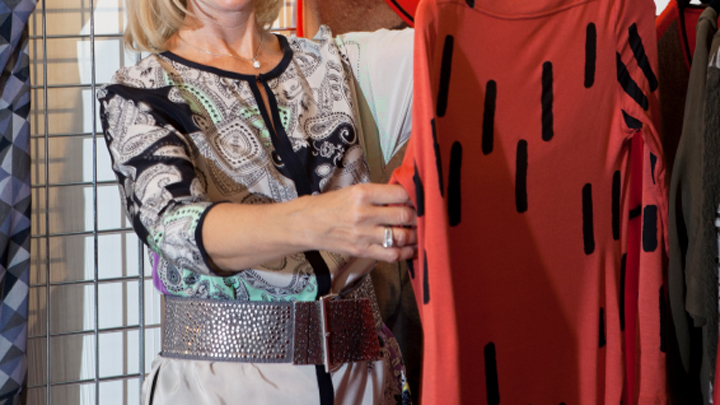 You walk into the wardrobe with absolute despair. The depths of your closet seem to taunt you and each corner houses relics of days gone by when you were perhaps slimmer. Your emotions tell you that some day you might be wearing your favourite clothes again.
Maybe you've bought things a size too small, your determination to fit into them one day rings in your ears when you look at the items. On the flipside, perhaps you're at the start of your weight loss journey and are afraid to buy clothes yet. You say to yourself, "I won't buy clothes till I lose weight". You think that will spur your weight loss on but it really only reminds you of your initial weight gain.
The reality is that you need to live your life without restraint. You are still active, you are still busy and you still need to feel good in your daily activities. The clothes you wear need to represent you (your personality) and satisfy your needs. Whether it's a business suit, leisure wear or a dress – you must feel presentable, comfortable and at peace. Your clothes are a part of your daily life, they must compliment your life not complicate it.
The key to flattering fashion during your weight loss journey is to dress for NOW. Find styles, colours and fabrics that accentuate your best features and hide those you want hidden. There are a few simple rules to follow:
Stay away from basic black as a total colour palette
Ad. Article continues below.
Black is indeed slimming but it cannot work miracles. Use colours and patterns to give you a lift. Wearing the basic black can give the impression of shame or unhappiness. You are a unique person, you have a personality that needs to be represented, wearing basic black as a total colour palette will suppress your individualism.
Use style to your advantage
Identify your body shape and dress to accentuate your best assets and hide those you would rather not see. There's no point in dressing in kaftans and sweat pants if you can find some gorgeous pants or a skirt that highlight your fabulous legs. Engage a stylist to help you with this. They will help you by identifying your body shape and suggesting styles to flatter your body. A good stylist will also do a 'wardrobe audit' for you. They will work with what you have and suggest the 'must have' buys to add to your wardrobe.
Dress for today
Stay current with your fashion. The sizes in most stores are now larger or a more generous fit. The average size of a woman has gone from 10 to 16. You are not alone! Buy items that fit you well today and keep you current with the latest trends. If you don't want to draw too much attention to your weight, then don't dress to stand out as the person who wants to hide away.
Ad. Article continues below.
Yes, you will stand out – but not the right way. Staying on trend will help you stand out in a positive way. People will notice you for your personality, your smile, your confidence.
You will lose the weight. Keep your fashion options open now. Don't wait for 'one day', dress to feel fabulous today. After all, they're only clothes. You can get new ones as you lose weight and reward yourself along the way.
Tell us, have you lost weight recently? How did your wardrobe change?