Expert tips to revive your fashion style on the cheap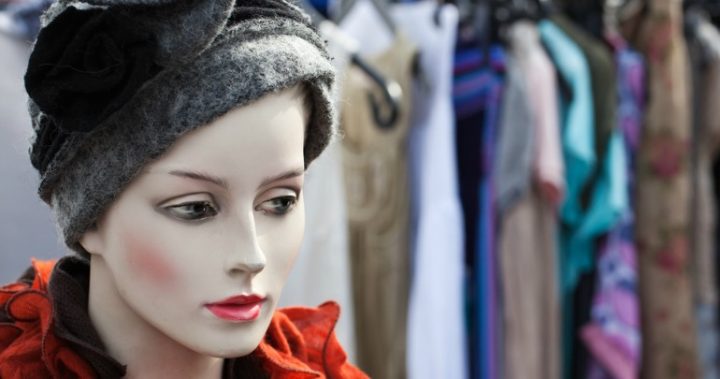 How often do you go thrift store shopping and only look in the sections that have your size? Stop it now!
Instead, start exploring the stores from head to toe with an open mind and a creative heart.
Starts at 60 spoke to Fashion Hound Faye de Lanty all about reusing fashion. She shared her best tips to be on trend with the latest, while also reducing our fashion footprint (and saving some serious dollars).
From her start as a presenter on Totally Wild to appearances on Kerri-Anne, The Circle and The Morning Show, you'd know de Lanty would love her fashion. But it's her love of op-shopping that makes her stand out from the social crowd.
An ambassador for Salvos stores, here's her best style tips:
Ad. Article continues below.
What sort of fabrics should you look out for? 
Hunt for great quality fabrics, quality and eye catching pops of colour.
I love natural fibres so I always keep an eye out for silk, linen, wool and leather…these kinds of items seem to hold their style, quality and condition well too.  
Then think about how you can embellish or revive to suits what you see on celebrities and the catwalks with a few simple DIY tricks.
I look at the trends regularly on website like WhoWhatWear and then keep that in mind when I'm shopping.
Ad. Article continues below.
What sort of accessories should you look out for?
Everything! Shoes, bags, jewellery, scarves, I search for it all.  But I especially keep my eye out for the classics, things in nude/neutral tones, black, beige and khaki.
This is how you can elevate your op shop look and it will appear as if you've spent a fortune.
What are you favourite looks to try with mens clothing?
Ad. Article continues below.
I love mens collared shirts, especially in white and fine blue stripes, I think they look fantastic on women.
I also check out vintage and plain tees, blazers and distressed denim in the mens section. 
How do you know what's in fashion?
I love to look at the trends and brainstorm ways that I can recreate them, a lot of them are quite simple when you break it down.
Distressing your denim..all you need is a pair of scissors and a cheese grater.
Embellishing clutch bags and shoes…just get yourself some craft glue and broken bling, then stick it on. 
Dress up the hem of a black pencil skirt with feathers or fringing – which is a huge trend for the new season, you can buy inexpensive trims like this from your local craft store.
Add patches or applique to a jacket.
Ad. Article continues below.
I just did a segment with the Today show showing viewers how to take the trends from the Runway to the Real-way.
I am also a huge fan of British Vogue and all Vogues for that matter, they are like my bible…they teach me so much not just in their editorial but also studying the advertisements for high end brands like Gucci, Dior and Louis Vuitton…get to know what their aesthetic looks like then when you are op shopping you can try your hand at recreating what you see. 
I just did this last week at REVIVE…I fell in love with the deconstructed suiting editorial in Augusts Australian Vogue so I hit the racks of Salvos Stores and was super proud of what I reinvented with preloved for the parade (two examples shown below).  Style is so not about having a stack of money.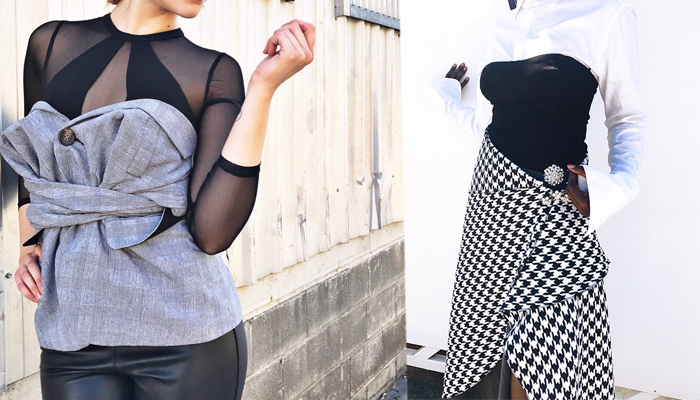 Where did you learn your skills?
My Mumma has been really instrumental in me taking this path, I have watched her for years reinvent, salvage, revive and create her own things from scratch…her incredible veggie garden, to all sorts of craft projects and delicious food.
She's truly a genius. I think I have developed her crafty and creative mind which I have applied to fashion…I see the potential and possibility in preloved things. 
Ad. Article continues below.
I don't remember her ever sitting me down and saying 'this is how you do this' per say but I have definitely picked up her eye and DIY skill set in my own unique way.
She always says to me, she doesn't know how I do what I do, when she walks into an op shop she can't see half the things I do, I feel the same about gardening…I have been known to kill a cactus!!! But when we work together we feed off each other and magic happens.
We have the same mindset I guess, just different expressions.
Will you try some of her advice and rework some op-shop bargains?