Diana Ross and daughter show why more is more in outrageous frocks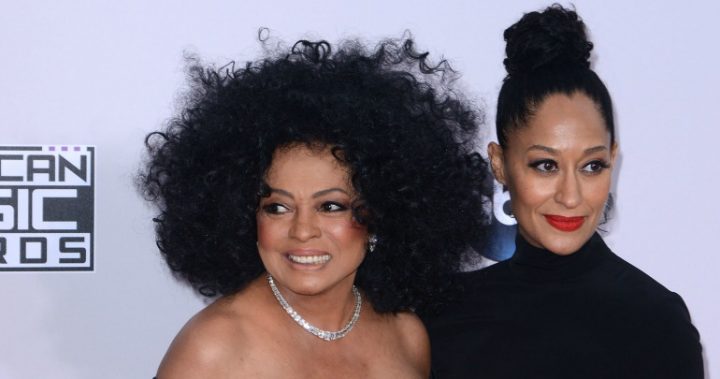 Diana Ross has always been a style icon and it looks like she's had a massive impact on her own daughter's style.
The singer appeared at the American Music Awards on Sunday night in one of her most outlandish outfits to date, ensuring that all eyes were on the 73-year-old diva. A figure-hugging dress with a plunging top was topped with what has to be one of the largest fascinators the red carpet has ever seen.
The headpiece towered over Ross' petite frame, which she boosted with a pair of chunky heels. Smoky eye make-up  and a choker completed the flamboyant look.
Ross was at the ceremony to receive a Lifetime Achievement Award – 43 years since the Supremes songstress first attended the glamorous awards back in 1974.
#twirling #AMAs https://t.co/OTERiHgZF6 pic.twitter.com/a72V2ppvol

— Ms. Ross (@DianaRoss) November 20, 2017
Ad. Article continues below.
At one point, Ross had her entire family walk the red carpet with her, including the grandchildren!
Tracee Ellis Ross, Diana's daughter, hosted the show and gave her famous mother a run for her money when it came to the fashion stakes.
Ad. Article continues below.
Taking to the stage to open the ceremony, Tracee wore an outrageous gown made from what looked like crimped, bronze kitchen foil. 
The glittery number featured a number of sunray pleats and more frills than you could poke a stick at.
Her over-the-top collar almost made the 45-year-old look like a frilled-neck lizard.
Ad. Article continues below.
She went on to wear an array of other outfits during the night.
What did you think of Diana and her daughter's outfit? Who's looked better? Is this something you'd ever wear?