Crown Princess Mary makes a plum start to the new year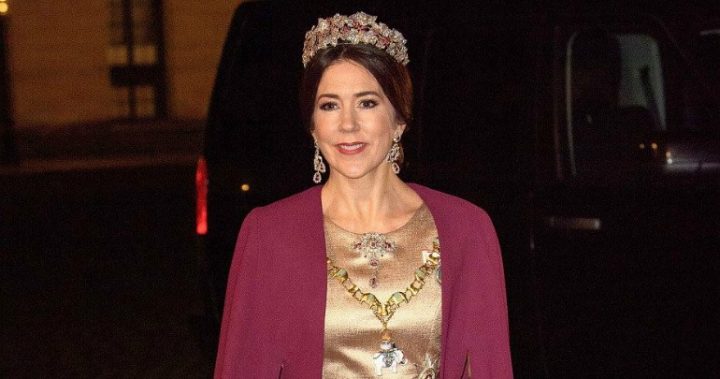 Crown Princess Mary has stunned onlookers by attending the New Year's Banquet at Amaliaenborg Palace in Copenhagen looking every bit the picture of elegance.
The Australian-born royal wore a floor-length gold gown and plum cape, the Ruby Parure Tiara and the Order of the Elephant to the banquet hosted by Queen Margrethe.
A centuries-old tradition, the banquet brings together members of the Danish parliament, top officials and court management, and guests enjoy traditional food, wine and music throughout the evening.
Ad. Article continues below.
The princess was joined by her husband, Crown Prince Frederik who was attired in traditional military regalia.
The tiara adorned by Crown Princess Mary was a gift to Crown Prince Frederik from Queen Ingrid after she died in 2000, and he gifted the extravagant piece to her. It is said to have been in the family since the late-1800s. The Order of the Elephant worn around Mary's neck is only worn on January 1, said to be The Knight's Day. It is the oldest and most distinguished royal order of chivalry and dates back to the mid-1400s.
Ad. Article continues below.
Ad. Article continues below.
The Crown Princess and Crown Prince, as well as others attending the banquet dined on pheasant consomme, meat and dumplings as their entree; a saddle of lamb, spinach flan and cheese pie for main; and a kumquat cake with meringue for dessert. They drank Rosenborg wine, which has been the traditional New Year's drink since 1598, as well as Moet et Chandon champagne.
The event on January 1 is only the first in a series of New Year's events celebrated by the Danish royals.
What did you think of Crown Princess Mary's outfit for the banquet? How did you celebrate the New Year?