Catherine debuts another fab retro look with VERY Aussie touch
The Duchess of Cambridge has pulled out all the fashion stops for her visit to Sweden, debuting two eye-catching new looks.
The gorgeous royal wore a standout red-and-white houndstooth coat that to Australians will look very much like the black-and-white pattern that has historically adorned David Jones shopping bags. The coat was no cheapie, of course, having been designed by British fashion house Catherine Walker.
Catherine added an even more high-fashion element to the look, with a dainty Chanel handbag in burgundy. The quilted bag with a gold-patterned enamel handle is one of the French designer's classic flap bags and sells for about US$4,200 (A$5,223)), according to bragmybag.com, if you can find it in the shops – it's from the 2014-15 collection.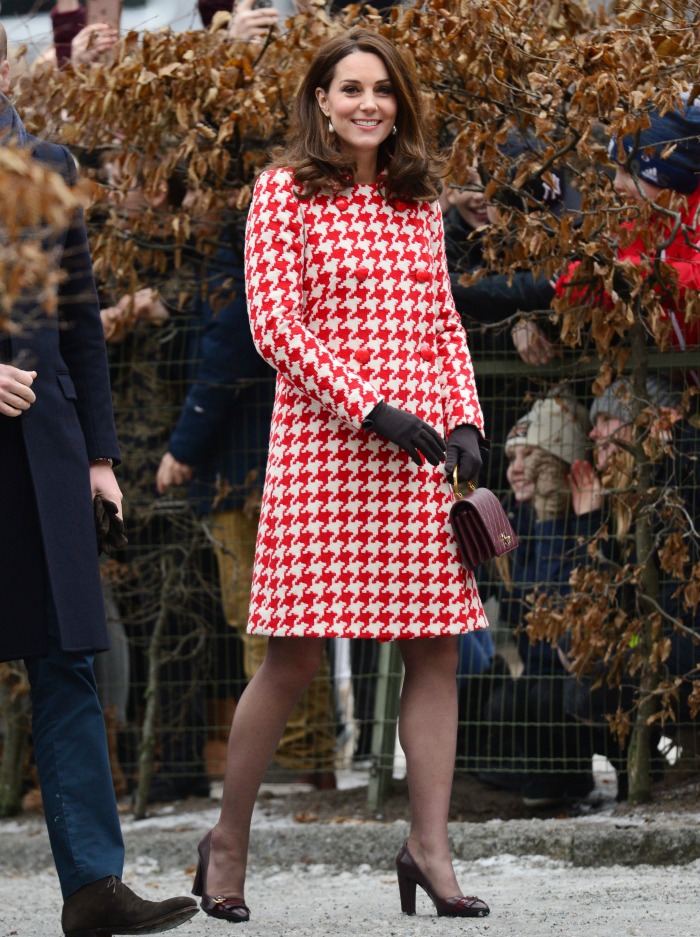 Underneath the streamlined swing-style coat, the duchess wore an Alexander McQueen boucle dress in cream – another classic look that skimmed modestly over her growing stomach.
Ad. Article continues below.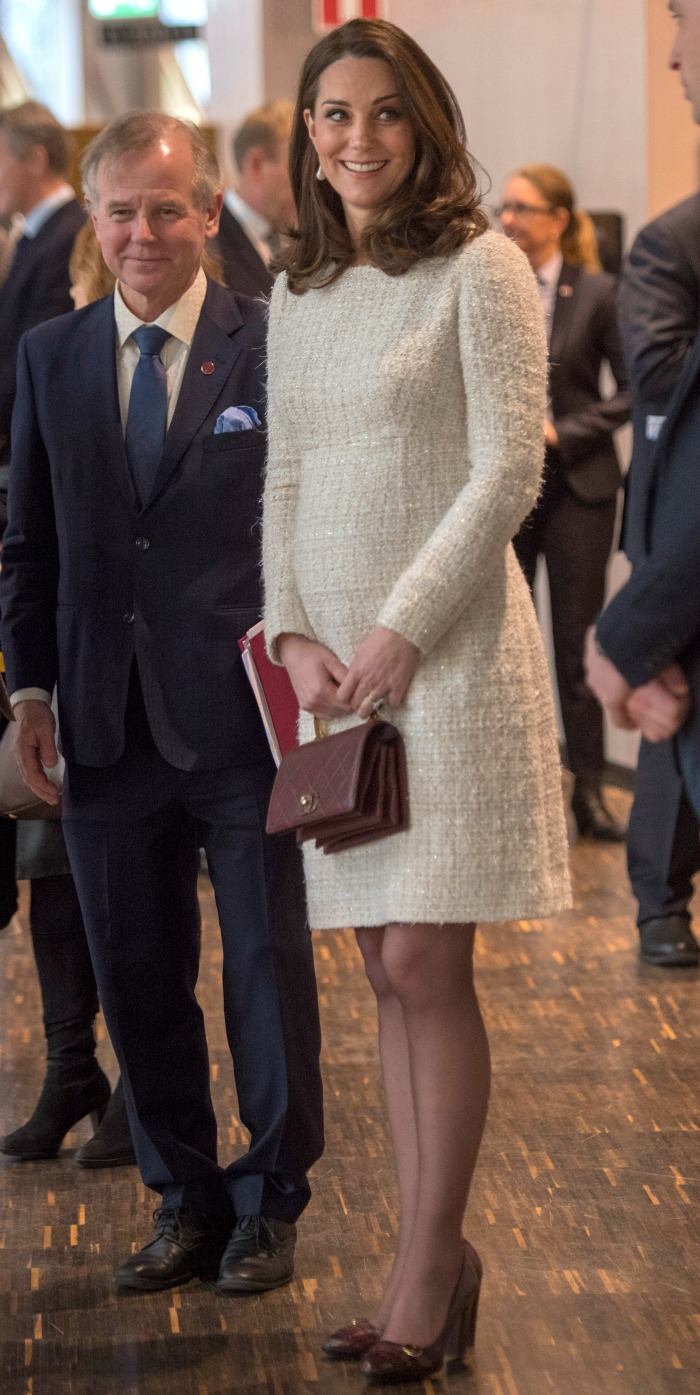 Her bouncy brunette curls were no doubt due to the heavy-duty tools her hair stylist took with her on the royal tour. Royal hairdresser Amanda Cook Tucker packed 13 brushes and three sets of tongs plus two hairdryers and six combs for the high-profile tour, according to reports of an Instagram snap she posted on her private account.
The latest lovely looks came a day after Catherine had fashion-watchers talking over a 1970s-inspired gown in an unusual mustard-yellow.
Ad. Article continues below.
Catherine and husband Prince William were on a two-day visit to Swden with the country's Corwn Princess Victoria and Prince Daniel. The two couples have plenty in common – as well as being young, stylish royals, they're also the parents of small children. (Victoria and Daniel are the parents of five-year-old Princess Estelle and almost-two-year-old Prince Oscar.)
On the second day of their visit, the British royals attended a meeting on youth mental health and visited a local school, where crowds of children greeted them with flowers and waves.
The couple are on a Scandinavian charm offensive, with plans to next visit Norway – their first official visits to both countries. On the first day of the Swedish tour, they revealed that Prince George and Princess Charlotte, like many children around the world, have furniture in their bedrooms from Swedish retail giant Ikea. 
Ad. Article continues below.
They also donned woolly hats to take part in a shoot-out on an ice hockey field, with experts praising Catherine's style, which is possibly no surprise given that she's an experienced field hockey player.
Ad. Article continues below.
Do you like the Duchess of Cambridge's coat or does it remind you too much of David Jones?