This is one dress code that I find totally frustrating.  Why bother, it is neither here or there?
According to the Macquarie Dictionary smart casual is defined as:  well-dressed in a casual style.
The Oxford Dictionary defines smart casual as: neat, conventional, yet relatively informal in style, especially as worn to conform to a particular dress code.
Style at 60 has put together some guidelines that will help you make sense of this ridiculously vague dress code and help you style your next smart casual look with ease!
1  Dress to suit the occasion
Obviously you will choose your outfit based on the occasion – smart casual at a friend's place for a BBQ will be quite different to what you would wear to a ladies lunch at a smart restaurant in town.  Think about where the occasion is being held, what you will be doing and dress accordingly.
2  Informal and comfortable
The word casual implies comfortable to me.  You don't want to feel constrained by your attire.  Don't choose something that is uncomfortable to sit down in if you are going to a sit-down function.  Don't wear something skin tight if you are planning to eat a feast!  Why wear something that makes you hot and bothered if it is a hot day.  Relax, keep it less structured and make it work for you!
3  Smart is the key word here
Don't mistake casual  for the clothes like you wear off duty at home!  You want to look polished – not shabby!  Look like you have put some thought into your ensemble with carefully chosen pieces that will work together effortlessly.
4  Use accessories to your advantage
Let your personal style shine through with your clever use of accessories.  Your choice of jewellery, scarves, hats, handbags or glasses will put your personal stamp on your version of smart casual.
5  Pay attention to your shoes
This is extremely important. If your footwear is not right it will let your whole outfit down. Your footwear should be in beautiful condition – not scuffed.  Think about the surface you will be walking on (wedges are best for grass)  and how long you will be standing for (skip the pointy toes if  they make your feet sore).
6  You don't want to make a statement 
This is a time where you truly want to comfortably blend in.  Don't overdress or go to full-on with the bling! Just relax and keep it toned down.
7  Best to avoid – basic rubber thongs, trakkie daks, t-shirt fabric shorts and sleeveless singlet tops or anything shabby.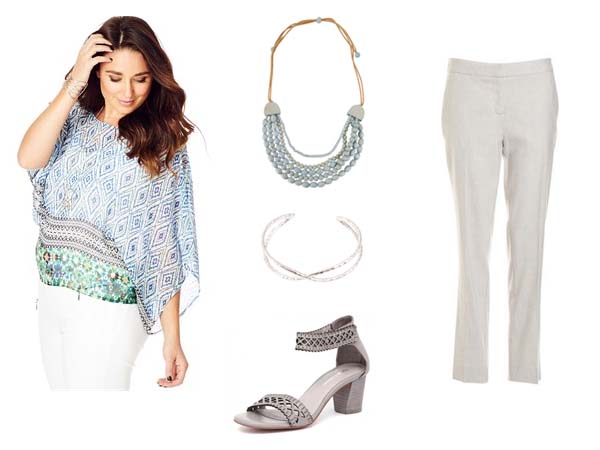 Katies border print kimono top
Sportscraft string crop trouser
Nicole Fendel infinity cuff
Zatini necklace
Django and Juliette sandal
But what IS acceptable I hear you say?
It all comes down to the mix – how you style items together to suit the occasion. Both denim and bejewelled thongs are fine in my books, as long as they are appropriate for the occasion.  Check out these potential scenarios- can you see where I am going with how you mix items together?
At the polo – Jeans, a blazer and heels is smart casual – but jeans, a cardi and thongs is not.
Poolside BBQ – Smart shorts with a gorgeous flowing blouse and a small heel is smart casual, shorts and slip on flat sandals are not.
Out to lunch – A pretty dress with a denim jacket and a small heel is smart casual, but the same look with a flat thong style is too casual or a pretty dress with an overly structured jacket and stilettos is too formal.
A Christening – A beautifully tailored pair of pants with a silky relaxed top  and a pendant necklace is smart casual but the same pants with a fitted shirt and pearls is not.
Summer drinks – Bejewelled thongs, an elegant kaftan and clutch handbag is smart casual, a beach cover up, basic flat sandals and a shoulder bag are not.
Grandkids recital – 7/8 pants and a fabulous tunic is smart casual, the same pants with a basic t-shirt is too casual.
Does the term Smart Casual frustrate you too?  Do you wish people could be a little more specific with dress codes?
Comments