Bridesmaid takes hilarious pics doing everyday things in her dress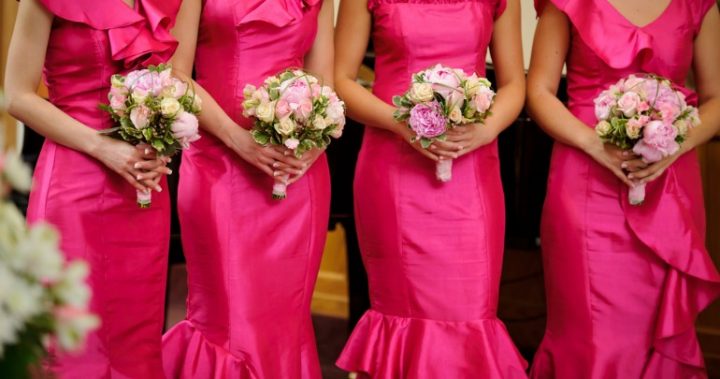 Most of us have a haunting past of downright awful bridesmaid's dresses that worn without complaint (at least to the brides' faces) out of love for our friends. We've also most likely made our dear friends and sisters wear dresses in our own weddings that may have seemed like a good idea at the time, but looking back, are a bit … questionable.
One such bride in the US recently had this realisation, and posted an apology to her bridesmaids on Facebook on the anniversary of her wedding. 
Tammi Sauer got married in 1995, and had her five bridesmaids wear long, off-the-shoulder gowns in a burgundy brocade fabric that "looked like a Thanksgiving tablecloth."
She posted a couple of pictures on Facebook in celebration of her 22nd wedding anniversary, with the apology to her bridesmaids.
Ad. Article continues below.
One of them had an amazing response, posting, "what do you mean …? I wear mine all the time," along with photos of herself wearing the very 90s dress as she waters the garden, lounges on the couch, brings in the shopping, and does the laundry – photos which have since gone viral.   
"In case you missed the collage that was buried in the comments of my anniversary post…." Sauer wrote on Facebook. 
"I had apologized to my bridesmaids for those dresses. Then the incomparable Heidi Bruce Mann responded with: 'What do you mean sorry about the dresses? I wear mine all the time.'"
All we can say is that we're jealous that she still fits into a dress she wore 22 years ago! 
What is the worst bridesmaid's dress you've ever had to wear?