Bride wears grandma's 1962 wedding dress in touching tribute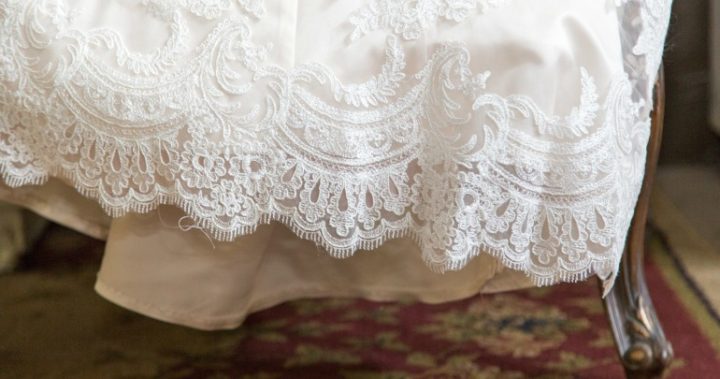 If this story doesn't pull at your heartstrings, we're not sure what will – what a lovely grandmother-granddaughter relationship!
Ahead of her wedding to her childhood sweetheart, bride-to-be Jordyn Cleverly had the perfect idea for her wedding dress that would surprise her beloved grandma.
The 23-year-old from Idaho in the US decided that she wanted to walk down the aisle in the exact dress her grandma Penny Jensen wore 55 years earlier at her own wedding. After being less-than-impressed with an array of new gowns she initially tried on after her engagement, she'd decided her grandma's dress was the specific style she was looking for.
Jordyn secretly obtained the stunningly preserved gown Penny got married in back in 1962.
Ad. Article continues below.
Sadly, 74-year-old Penny's husband passed away before Jordyn was born, but the tribute ensured he would still be part of his granddaughter's big day.
Jordyn kept it a surprise from her grandmother until a special photoshoot on the night of the rehearsal dinner.
Wedding photographer Kortney Peterson took to Instagram to share some photos from the touching reveal.
Ad. Article continues below.
She explained: "Jordyn surprised her sweet and tender widowed grandma, with wearing her grandma's dress from 1962 for her own wedding!
"Her grandma had no idea Jordyn even had the dress in her possession until she walked out revealing it to her before the wedding rehearsal."
Kortney revealed that she bawled after taking the photos and that she felt lucky to have captured the moment.
We're bawling our eyes out, too.
Ad. Article continues below.
Jordyn decided not to reveal the dress to her grandmother on her wedding day, fearing Penny would become overwhelmed with emotion.
Instead, she opted for a more personal encounter so the pair could soak up the moment.
Of the emotional reveal, she told Inside Edition: "She was just speechless. I kind of blacked out for a second because it was such an emotional rollercoaster.
"All I heard her saying in the back was 'Wow, wow, wow.' I finally went up and hugged her and she whispered in my ear, 'I married my high school sweetheart in this dress and so will you'."
Ad. Article continues below.
It looks like the dress could be worn again, with Jordyn insisting that she wants to keep the wedding dress in her family for years to come.
Have any of your grandchildren borrowed something from you for their wedding day?