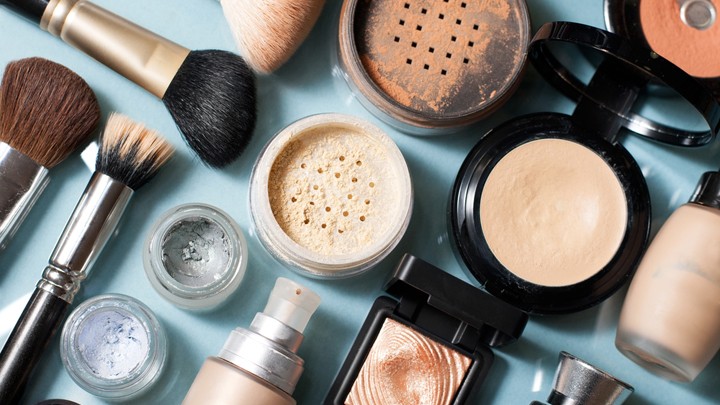 We all apply different types of cosmetic products every day, from perfume to makeup to deodorant and more. These are part of our regimes, so it's unlikely we sit down and really think about what we're putting on our skin… but we should.
The reality is that not all skin products are made equal and not everyone's reaction to a certain chemical will be the same as someone else's. This we know. It's what we mightn't know about carcinogens and proven dangerous chemicals in our favourite cosmetics that is scary.
Here's some you should know the name of:
1. Triclosan
Found in: antibacterial soaps, and some shampoos, deodorants, toothpastes, mouthwashes, and cleaning products.
You may have seen the advertising in recent years that says antibacterial soaps will get rid of 99.9 per cent of germs, but in fact regular old soap does the same. The difference?
Pump soap contains an active ingredient called triclosan. It has been linked to liver toxicity, thyroid dysfunction and higher incidence rates of food allergies and hay fever in children. Other studies have linked triclosan to allergic contact dermatitis.
2. Cocamide DEA
Found in: Lathering shampoos
The Center for Environmental Health found a chemical linked to cancer in dozens of shampoos, many of them the more expensive brands. The ingredient, cocamide diethanolamine (or cocamide DEA), is a chemically modified form of coconut oil used as a foaming and thickening agent.
When buying shampoos it's best to check the ingredients and make sure that shampoos you buy do not say "cocamide," "cocamide DEA," or "cocamide diethanolamine" on the side of the bottle.
3. Isopropyl alcohol
Found in: hair colour rinses, body rubs, hand lotion, and aftershave lotions
Scientists believe that isopropyl alcohol has the ability to destroy intestinal flora, leaving the body's major organs open to infection. At its most basic, isopropyl alcohol can cause headaches, dizziness, mental depression, nausea and vomiting if used in high concentrations.
4. Propylene glycol
Found in: makeup, toothpaste, and deodorant.
Stick deodorants have a high concentration of PG and direct contact can cause brain, liver, and kidney abnormalities. When manufacturing staff work with it, they need to to wear protective gloves, clothing, and goggles. It makes you think twice before using it!
5. Phthalates
Found in: fragrances, hair products, skin lotions, nail polish and nail hardeners.
They have been linked with endometriosis and reduced fertility in males. They can also act on the thyroid, and have been linked with obesity.
In light of these concerns, several phthalates have been banned for use in cosmetics in Australia: dibutylphthalate, diethylhexylphthalate, diisobutylphthalate and di(methyloxyhexyl)phthalate.
6. Parabens
Found in: cosmetic and personal care products, with methyl paraben being the most commonly used.
The European Scientific Committee on Consumer Safety reviewed parabens and determined that while methyl and ethyl paraben are safe to use in cosmetics, subject to concentration limits, five other parabens were banned in cosmetic products. No parabens have been banned in Australia.
7. Talcum powder
There has been a link between talcum powder and ovarian cancer for years, and it has come under the spotlight again after a court ruling against Johnson & Johnson found the company knew it could cause ovarian cancer if applied to the genital area.
So who is regulating cosmetics in Australia?
According to consumer group CHOICE, cosmetics sold in Australia are regulated by the National Industrial Chemicals Notification and Assessment Scheme (NICNAS), a division of the Department of Health and Ageing.
Anyone importing or manufacturing cosmetic ingredients or products must be registered with NICNAS and products must comply with certain legislative requirements, including labelling of ingredients, which is overseen by the ACCC.
Cosmetic products in Australia must be labelled with ingredients so consumers can check for allergens or other ingredients they may react to but interestingly, the listing must only appear on the product packaging if it can fit, otherwise on pamphlets or display panels near the product.
"These chemicals are used in very small quantities and some, like shampoos and so on, for only a very short period of time," says Dr Rosemary Nixon, from the Australasian College of Dermatologists.
When it comes to natural products, caution is advised as well. Many natural ingredients can cause skin reactions and allergies, including lavender, tea tree oil, lanolin and various essential oils.
Tell us, are you worried about chemicals in your cosmetics?
Comments