Ask Starts at 60 Style: I'm a size 6 – where do I find stylish clothes?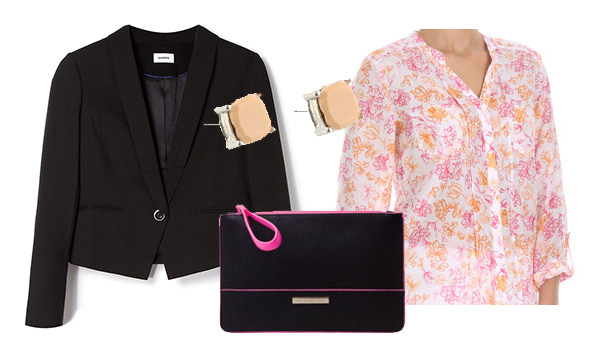 We all have our different challenges when it comes to dressing for our body shape. It can be an endless source of frustration every time we go shopping to never find something that works for our body type. Today we are going to explore how to dress if you have a petite figure.
Good things often come in small packages, right? Right!
When you are petite, ideally you want to create an elongated silhouette. By creating vertical lines with fitted garments and a monochrome colour palette you will be well on your way to looking your best. It is of vital importance that your clothes are in the correct proportions and fit well. Poorly fitted clothes will look wrong and accentuate your petite frame in an unflattering light.

Stockists
Ad. Article continues below.
Adorne – earrings
Colette Hayman – clutch
Dannii Minogue Petites – pink dress
Marcs – jacket
Regatta Petites – shirt
Sandler – shoes 
Sportscraft – belt and shoes
The Clothing Company – white skirt
Petite tips
– Follow the two thirds rule – don't wear clothes that cut you in half.  Try wearing high waisted pants that cover 2/3 of your body & a top that covers 1/3.
– Try wearing a nude coloured shoe with a skirt or dress, to make your legs appear longer.
– When wearing a jacket, ensure that it fits perfectly across the shoulders & finishes at the hip line.
– Wearing a V shaped neckline can make you appear taller.
– Don't try to wear a lot of colours at once – try sticking to one or two colours.  When wearing prints choose carefully – vertical or diagonal prints are best.
– Wear clothes that are fitted – if you wear loose fitting styles, your petite frame will appear swamped, making you appear shorter & wider than you are.
– Avoid shoes with straps around the ankles & boots that finish mid shin as they will make your legs look shorter.
– Avoid boxy shapes.
– Wear your shirts tucked in.
– Match your belt colour to your pant colour to elongate your legs.  Match to your skirt too.
– Avoid oversized accessories.
– Vertical stripes will elongate your figure.
– Wear long pants with a shoe in the matching colour.
– Do not wear tops that go lower than your hip line.
Ad. Article continues below.
Styles we love
– The shift dress fitting on or just below the knee.
– High waisted skirts.
– Fitted shirts tucked in.
– Wear a buttoned through shirt dress to the knee.
– The wrap dress
– High waisted long pants.
– Fitted jackets which finish at the hip line.
– Wear heels (not too high)
Be inspired
Try looking at the styles of Audrey Hepburn, Helen Mirren, Victoria Beckham, Eva Longoria and Sarah Jessica Parker. All of these women had/have a petite figure and have terrific style.
Ad. Article continues below.
Where to shop
Myer – the following brands are available in petite sizes – Basque, Trent Nathan, Regatta, Marco Polo, Yarra Trail
David Jones – the following brands are available in petite sizes – Yarra Trail, Lorelle, The Clothing Company
Dannii Minogue for Target – Dannii's range starts from size 4 and is an affordable range of stylish outfits
Metalicus – worth checking out, as a lot of garments are a "one size fits most" size and you might be pleasantly surprised.
Birdsnest – has a dedicated shopping section for xs/sizes 6 & 8.
J Crew – this is one of my favourite brands and it has a dedicated section for petites!
Old Navy & Banana Republic – these brands have a dedicated petite section.
Marcs – some garments start at size 4 so it will be well worth a look.
Topshop – has a dedicated petite section
Kookai – this brand is a small make & starts at a 34 or size 6.
French Connection – again a small make sizes starting at size 6
The Iconic – has a petite section starting from size 6.
Forever New – sizes start at size 4.
If all else fails and you find something you truly love, take it to a respected tailor that you trust to make the necessary alterations.
Ad. Article continues below.
Do you have a style or beauty question that you would like answered?  Starts at 60 Style would love to hear from you!
Ad. Article continues below.