Melania Trump stuns in simple sophisticated style in Japan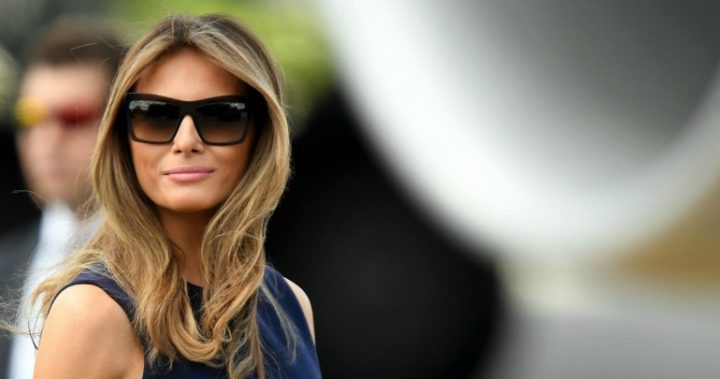 The US First Lady has gone for traditional style while visiting Japan, as part of a 12-day trip around Asia.
Joining her husband, US President Donald Trump, Melania attended a state banquet wearing a simple floor-length red gown, styling her hair in a loose updo.
With diamond earrings her only accessory, it was stunning elegance all round.
#TheFive You can hardly find it in the news and I wonder why?Melania Trump looks red hot in gown as she dines with Japanese Prime Minister❤️ pic.twitter.com/Z9hAmzaAOG

— CindyForTrump (@immigrant_legal) November 6, 2017
Ad. Article continues below.
During the visit she's also tried her hand at Japanese calligraphy, while visiting a Tokyo elementary school, writing the first character of the Japanese word for peace.
On this occasion she also went for simple styling, still with an elegant updo – a low chignon bun.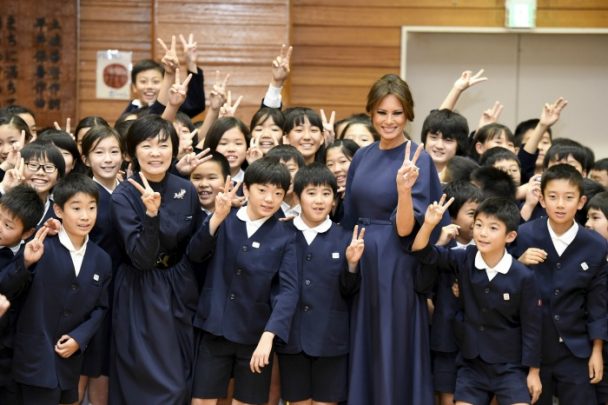 Wearing a navy blue cape dress by Dior, part of the Fall 2016 collection, it featured a belt at the waist and  a hemline below the knee. 
Earlier in the visit Melania enjoyed a cultural presentation on the history of pearls while wearing an elaborate multi-coloured sweater coat, in fall colours of tan, orange, red and brown. 
Ad. Article continues below.
The Trumps arrived in Japan on Saturday afternoon.
Part of the focus of the tour is on rallying other regional powers to step up their efforts to pressure North Korea into abandoning its nuclear and ballistic missile programs. Trump has already visited a joint US-Japanese military base just outside of Tokyo.
"Our brave warriors are the last bulwark against threats to the dreams of people in America and Japan and all across the world," Trump said during visit, reports CNN. "You are the greatest hope for people who desire to live in freedom and harmony and you are the greatest threat to tyrants and dictators who seek to prey on the innocent."
During the tour they are also scheduled to visit South Korea, China, Vietnam and the Philippines. 
Do you like Melania's simple style for this visit?