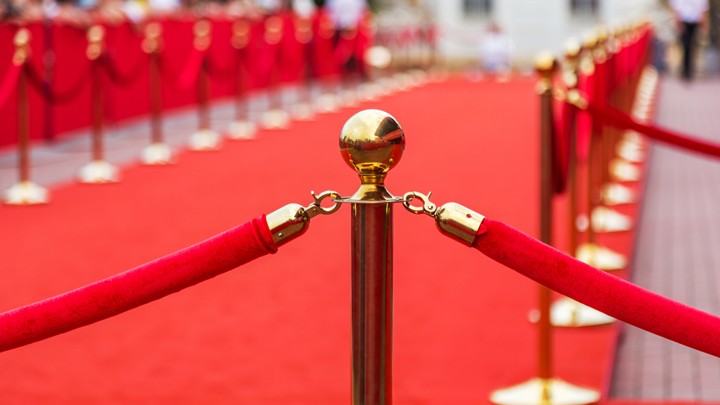 The 2016 Academy Awards have come and gone for another year! Style at 60 has enlisted the help of two of our community members – Janice D'Ambra and Carmel Roberts to discuss the fashion hits and misses of the night!
Actress Cate Blanchett, aged 46, wearing Armani Prive
Janice:  Very pretty, feminine colour. A graceful gown, which is totally ruined by the excessive embellishments! It appears she is being attacked by a swarm of butterflies….an effect which is more apparent if you saw her actually moving, and all these scraps of fabric fluttering in the breeze! However, she is one of Australia's favourite performers, and we need to support "our Kate", so I'll give her a 4/5.
Carmel:  I love Cate Blanchett's Armani Prive gown! It suited her beautifully and the colour complemented her skin tones very well. 4.5/5
Academy Award winning costume designer Sandy Powell aged 55.
Janice: That outfit reminds me of Tin Man from "Wizard of Oz"! I don't like the flared pants….what happened to her feet? However I admire her for choosing something unusual, but not outrageous. 3/5
Carmel: I was not a great fan of the suit worn by Sandy Powell – the pants looked a bit too wide and stiff.  2.5/5
Actress Julianne Moore, aged 55 wearing Chanel.
Janice: Safe, simple, inoffensive, but nothing remarkable. 4/5
Carmel: Gorgeous detail on the dress worn by Julianne Moore – it was very flattering. 4/5
Actress Olivia Wilde wearing Valentino Haute Couture.
Janice: I love the way that skirt drapes. However, the bodice looks like a "wardrobe malfunction" about to happen. I guess she is well glued into this…but maybe a contrast panel in the gaps would give her more security? 3/5
Carmel:  The dress worn by Olivia Wilde had an unflattering neckline and was a bit extreme for my taste.  1.5/5
Whoopi Goldberg, aged 60, wearing a Danes of New York gown and jewellery by Sevan Bıçakçı.
Janice:  Jewellery? Sorry…not my idea of jewels! It looks like she went to the tool shed and found some wire! The item on her right hand looks like an octopus! Given that she wore a very plain black dress, she needed some colour, or a couple of pieces of sparkling jewellery. Nothing big, though, as she has small hands with short fingers. 2 1/2 out of the 5
Carmel:  Whoopi Goldberg's jewels were great fun. They looked fabulous.  3.5/5
Sofia Vergara, aged 43, wearing Marchesa.
Janice:  I love the colour and style. Sadly, this dress is spoilt for me by that peplum affair at the waist. It is just not needed. She looks as though she is clutching a tea towel, ready to dry the dishes at the after-party. 3/5

Carmel:  Sofia Vergara looked lovely in a classic, flattering gown.  4/5
Lady Gaga wearing Brandon Maxwell.
Janice:  As seen in this photo, she looks really elegant, if a bit pallid. However, in other photos, those pants looked uncomfortably tight…with creases across the crotch area when she moved.  Given her penchant for weird outfits, this is infinitely better than a few raw steaks dangling from her body! 3/5…..almost a 4
Carmel:  Lady Gaga's gown looked quite heavy and somewhat demure, considering her usual style. Was she channelling Marilyn Monroe?  2.5/5
Janice & Carmel – we love your style! Thank you for being our guest reviewers today! You have done a brilliant job!
What did you think of the fashion on the night? Do you agree with the comments by Janice & Carmel?
Comments