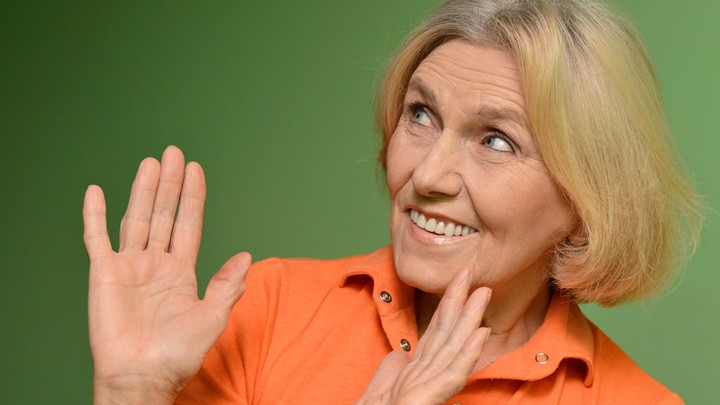 No woman wants to make herself look older than she is, because there's something wonderful about embracing the age you really are. You can look fabulous at 60 with some tweaks, and without looking like mutton dressed as lamb.
And of course, the key is to always dress in what makes you feel good and not what's "age-appropriate"!
With all that said, there is no reason to move things along more quickly than necessary – here's 8 things that could be unintentionally ageing you.
1. Revealing too much
Even if your bum, boobs or legs are in great shape, it can actually age you if you have them out a lot and in a non-tasteful way. A lot of older women like to show their cleavage but it can be overpowering. Try subtle, attractive clothes without the fuller reveal.
2. Wearing too-loose clothing
Clothing that is baggy makes you look shapeless and we all know every woman has an asset to show off such as a tiny waist or great breasts! Ditch oversized tops and tees and wear clothes that fit you for the size you are now. Try a wrap around top for ladies with a tummy, or layers.
3. Being nostalgic about clothes
Many women have a signature piece or heirloom item they don't ever want to sell and love to wear season after season. This means they could be out of style, dated or ill-fitting. Consider having these pieces tailored so you can continue to wear them with confidence, she suggest. Otherwise, donate or sell them.
4. Using heavy black eye liner
Dark, severe eye liner is not flattering on most women as they age. This is because our eyelashes thin out as we get older. Instead of a black liner, choose a dark brown or grey or forgo it altogether. If you're trying to compensate for a lack of lashes, consider extensions or just mascara.
5. Wearing an ill-fitting bra
Do away with any bra that makes your back hurt, is pointy or triangular, or gives you four breasts. Around 85 per cent of us are wearing the wrong size, so you should get fitted properly as chances are it's been a while and you have fluctuated in size. The right bra size can instantly lift and smooth your chest, giving you a flattering silhouette.
6. Twin sets
These matching tops look very cute but can instantly age a woman as they tend to be the same colour. If you like the look of the top underneath a cardigan, go for a modern twist – wear a singlet underneath a colourful blazer.
7. Too much jersey fabric
Knit jersey fabrics are known for being ultra-comfortable and affordable but they can also be clingy. It naturally hugs the body, meaning if you're not stick thin, it could highlight the wrong areas. A cotton blend would be less clingy, otherwise a crisp shirt.
8. Granny glasses
Avoid the classic stereotype of a granny with big circular reading glasses with the string. Instead embrace colourful, hip plastic frames and leave the delicate wire frames or rimless frames in the past!
9. Your skirt is too long 
You may be getting older but that doesn't mean your hemline has go further down. The most flattering skirt length for your shape should be slimmest part of the area around your knee, either right above, right below or in the middle. That's where your hemline should be.
Tell us your tips!
Comments