12 reasons you should be shopping online in your 60s!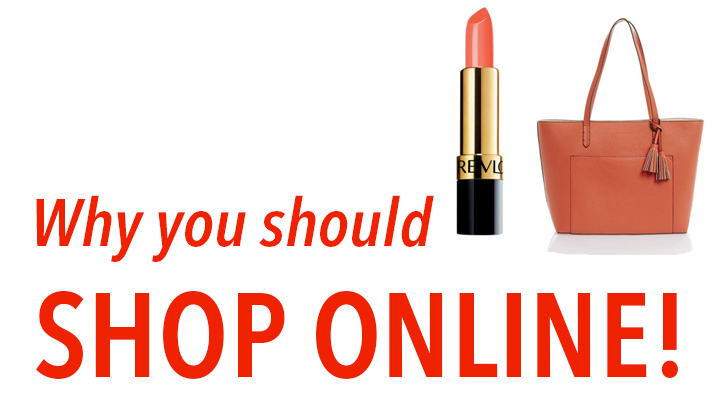 The face of retail has well and truly changed. Gone are the days where you would seek out a lovely boutique as the exclusive stockist of your favourite brand. Gone are the days where you actually got served properly in a shop.
But it's not all bad news. We can also wave goodbye to the days we couldn't buy something because it was only available in the USA.
Changing old habits is not always easy. To be honest, I have only recently started shopping online in the past two years. I still love to go into a brick-and-mortar shop, especially if I want to try something on; to actually see it and feel it! I am a clever shopper and they don't call it 'retail therapy' for nothing!
But the time has come, ladies, to dip your toes into the water and embrace online shopping. Here is our guide to shopping online safely, successfully and stylishly.
How to shop online safely
Ad. Article continues below.
To ensure your online shopping experience is a pleasant one, you should follow a few simple rules. First and foremost: be safe. Choose only reputable sites and brands. I have found PayPal – they payment system supported by most legitimate online stores – to be an excellent way to protect my money.
It is also a good idea to have a specific account/credit card that you use for online shopping. That way, if something does go wrong, this is only the account that will be affected.
Another thing to consider is delivery. If I am purchasing an expensive item and the choice is there, I will always opt to sign upon receipt of my order.  That way, everything is accounted for.
It's convenient
It's wonderful to have something you want delivered straight to your doorstep, without so much as having to lift a finger – let alone put petrol in your car, pay for parking or endure shopping centre crowds. There are many reasons in our lives which can prevent us from getting out and about – and this is where online shopping is golden.
Ad. Article continues below.
It will save you time
Who wants to be trudging around a Westfield trying to find something, only to discover they don't have your size? This is time far better spent with your friends and family.
While this is a style column, I can't resist adding that online grocery shopping is also excellent. I just buy the basics online, and go into store for fresh produce and specifics. (Who doesn't prefer to choose their own potatoes and avocados?)
However, for the heavier, more generic items – like tinned tomatoes and bulk washing powder – it works like a dream! They'll even carry it straight to your kitchen bench!
Here's a great project idea to get started: why not do all of your Christmas shopping online? Just imagine how much stress it will save to shop with your feet up!
Ad. Article continues below.
It will save you money
There are amazing bargains to be had online – you just need to be a savvy shopper!  Think about this:  we are gearing up for summer here in Australia, which means they are bracing for winter and cleaning out old stock in the northern hemisphere!
Just imagine: Summer stock on sale at the beginning of our season! This presents a year-long perfect opportunity to buy things on sale out of season!
When you shop online, you tend to buy only what you need. You are less likely to be distracted by all of those little extras that catch your eye.
But what do I buy?
Ad. Article continues below.
For easy reference, start with the things you already know and love. For example…
Beauty products
For your beauty items, online shopping is an absolute godsend! You already know your foundation. You know your cleanser. You know which shampoo you like and what your favourite fragrance is. There is no choosing involved.  Just stock up and buy it at the best deal you can find. Easy!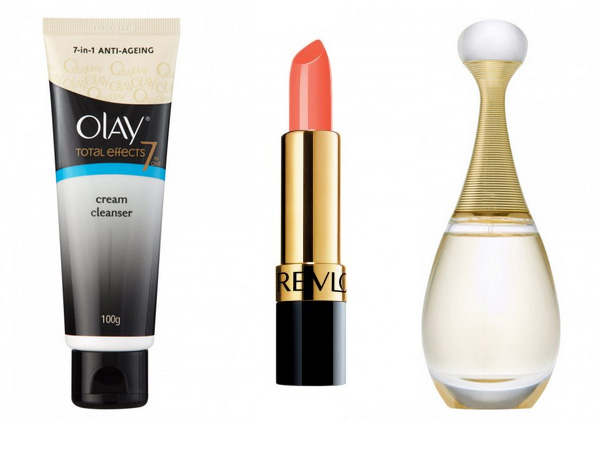 Ad. Article continues below.
Olay total effects cleanser
Available here
Dior J'adore
Available here
Revlon lipstick in firy sunset
Available here
Fashion
Ad. Article continues below.
To remove uncertainty, I recommend shopping for clothes online from brands you already know.
What if it doesn't fit? This is a common problem with online shopping. Avoid buying items that you feel you would need to try on normally – like a strapless fitted dress, fitted pants or any complicated style.
Instead, go for items that will skim the body – like unfussy tops,  kaftans, tunics, maxi skirts and pyjamas  Go for knits  – cardigans, basics like tanks and tees.  Look for items that are generally easy to wear.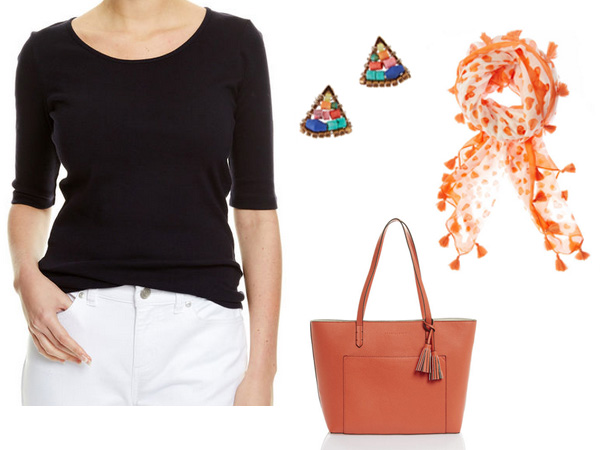 Ad. Article continues below.
Sportscraft heidi 1/2 sleeve tee
Available here
Pigeonhole beaded triangle studs
Available here
Sportscraft iris scarf
Available here
Ad. Article continues below.
Accessories
Accessories are great to buy online!  Scarves, wraps, handbags, jewellery – the list goes on and on. You rarely need to try these items on, and the variety online is brilliant.
Footwear
Footwear is another great area to explore. You will need to know your size in all regional sizings, watching out for the difference between Australian & European numbering.
Again, it helps to know the brand, but if you see a pair of shoes that you simply must have – go for it! To safeguard yourself, you can always order a couple of different sizes to try on at home and send back the pair you don't want!
Ad. Article continues below.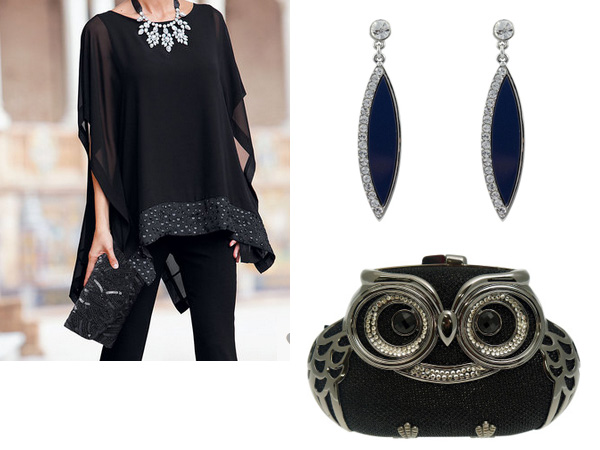 Together sequin hem kaftan top
Available here
Agenda earrings
Available here
Gregory Ladner night owl clutch
Available here
Ad. Article continues below.
Is there a risk?
Yes. Taking risks are a part of life, so you make calculated risks.
Technically, you are buying something that you have not seen or tried on, so you have to weigh up whether it is worth it to you. As long as you keep this in the back of your mind, you will avoid huge disappointment.  You can always return an item from a reputable site if it is not up to par – all you have to lose is the cost of the return postage.
 Just think…
…about how excited you will be when your parcels start arriving in the mail!
…about how great it will be not having to deal with irritating shop assistants who have no clue!
…about how organized you will be, and how much time you will save!
…about how your legs won't ache from overdoing it – and how you won't have to lug around bulky bags!
…about how you will never have to beg for a refund again because you lost your receipt!
…about how you can try things on in the privacy of your own home – in normal, realistic lighting!
Do you shop online?  What do you buy?  Do you have any tried and true websites that you love, or any other tips to share with the Starts at 60 Style community?