Awesome ideas for Christmas Eve with your grandkids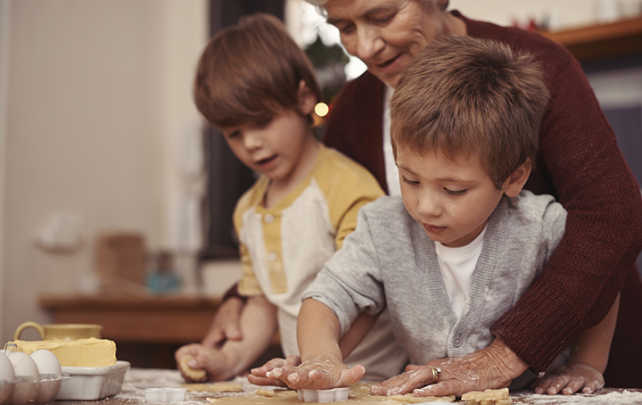 There are a few ways to really impress the little ones if they are coming to stay for Christmas Eve. You may already have plans to do some of these, or have other ideas which we'd love you to share.
1.  Bake and deliver cookies to the neighbours on your street with your grandkids. Or bake and give them as gifts. Rum balls are another great easy idea if you don't have time or patience for baking.
2.  Open one gift on Christmas Eve. Some families have a longstanding tradition that kicks off the night before Christmas.
3.  Track Santa's progress across the globe on NORAD.  www.noradsanta.com kicks off tracking Santa at 6pm Australian time, and you can watch Santa "live" as he creeps towards your house. It is the easiest way to get little people off to bed, when they see Santa is leaving the Pacific Islands and heading towards Australia.
4.   Make reindeer food on Christmas Eve (oats and glitter and hundreds and thousands or sprinkles all mixed together) and toss it on the lawn for Santa's team of reindeer.
Ad. Article continues below.
5. Read The Night Before Christmas at bedtime with much fanfare.
6.  Leave a 'trail' of gifts from the chimney to the tree so show Santa's route in the house.
7. Get matching pyjamas or "Christmas Pyjamas" for the kids to wear on Christmas Eve. What an awesome opportunity for a cute and memorable photo on Christmas morning.
8. And don't forget to leave out the beer, cookies and carrots… But we're sure you remember this old classic!
Do you have the grandkids coming to visit on Christmas Eve? Have you got other ideas you want to share?