Sometimes you have to let go to realise your dreams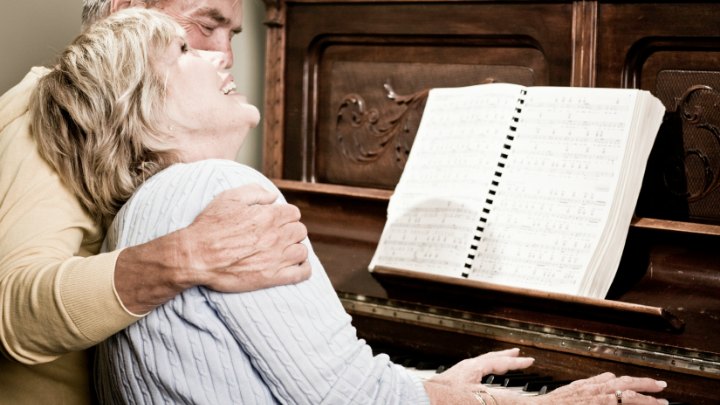 I recently gave up my piano and with it my dream of ever learning to play again.
I've carted that piano around for decades, shifting it from house to house, tucking it away in storage when we moved overseas. For the past seven years it has sat dormant in the corner, collecting dust and slowing losing tune.
A few years ago, my husband gave me an ultimatum. "Learn to play, or I'll turn the piano into a fish tank".
For the sake of marital harmony, I assume it was an act of love; a little push in the right direction. He even called in a tuner to fix the keys that stuck and the notes that fell flat.
But I was too busy to learn then. There were new babies to squeeze and work to be done; there was never a "right" time to sit down and practice.
Ad. Article continues below.
The few times I did find time to play, I found my fingers were slower than I remembered, and I couldn't quite remember the order of the notes on the bass clef. The sheet music I'd collected of "easy songs" suddenly seemed harder than they'd looked in the shop.
So the practice sessions got few and far between, and every time I looked at the piano, I felt overwhelming guilt.
When we decided to downsize, I knew my time was up. The final ultimatum (there were several attempts) was that if I couldn't play carols by Christmastime, the piano had to go.
That Christmas, it was still Bing Crosby on CD instead of the family singalong round the Old Joanna like I'd dreamed.
I had to accept the fact: if I hadn't found time by now, it was never going to happen.
Ad. Article continues below.
Reluctantly, I advertised the piano. "Good home needed for beautiful vintage piano," I wrote on Gumtree, adding an unreasonably high price (pianos, beautiful or not, are worth very little these days).
I asked a few friends it they'd be interested in housing the instrument in their homes but all, understandably, baulked at the idea.
Just weeks before we moved from our four-bedroom house into a gorgeous tiny cottage, the piano was still downstairs. I dropped the price dramatically as my husband's woodworking buddies circled like sharks around their future fish bowl.
Even though I knew in my rational mind we couldn't take the piano with us, my heart ached every time someone phoned to enquire (and offer an even lower price than listed).
Finally, a dear friend asked me why I was so attached to the damn thing. "You don't even play!" she remarked.
Ad. Article continues below.
Much later, in a quiet moment, I asked myself the same thing. Why was I so attached to an impractical, unwieldy piece of furniture? Why did it have such a hold over me?
The answer appeared at the same time as the question: it wasn't the piano I was sad about giving up, it was the dream.
All my life I'd wanted to make music. And somehow that desire had attached itself to the piano in the corner of the room.
Just days later, a buyer appeared. She was a mum who wanted to learn at the same time as her daughter, she offered the right price and agreed the piano was indeed beautiful. She promised me she would learn to play Christmas carols.
We moved into our gloriously low-maintenance home, which, ironically, gave me more time to pursue my actual dream of making music. I bought a $50 ukelele, which is infinitely easier to learn and lots of fun to play, and joined a choir.
Ad. Article continues below.
I guess the point of this story is that for years I had beaten myself up about this goal, which I'd carried around for so long it had gone stale and hardened.
The moment I realised what lay beneath the rigid dream of playing Moonlight Sonata on the discoloured ivories, I found I could move forward, and surprisingly quickly.
I now make music almost every day. And I know in my heart both the piano and I are happier this way.
Do you have a dream you need to "give up on" in order to move forward?