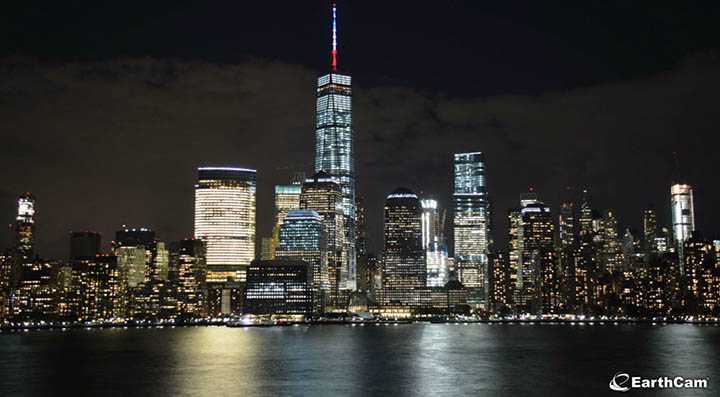 As the world watches on, solidarity is being felt by the French people with countries sharing their heartfelt concern and mourning by displaying the French colours in full regale anywhere they can. On national monuments and stadiums, hotels and town halls. The most poignant of all is the tricolour that is being lit up atop the building at One World Trade Center, that was built in the place of the World Trade Centre buildings lost in 2001 to terrorists. The colours bring tears to the eyes when we think of how horrible the aftermath will be for the French when they wake in the morning.
Various hashtags are now trending with a global outpouring of empathy and anger at what the French people have been put through and an understanding of how emotional the mourning will be from here.
The Americans and the English know more than most the horrors of mass-terror events, and their warmth is beautiful. Vive La France!
The Empire Trade Building is also alight with a tricolour salute.
The @EmpireStateBldg turns tricolor in solidarity with Paris & France pic.twitter.com/pEfwtNcg0f

— Arturo Sarukhan (@Arturo_Sarukhan) November 14, 2015
San Francisco's hall is also lit up with tricolours
San Francisco city hall lit up in the Tricolour for Paris. Vive la France. pic.twitter.com/YlknaT2Etn

— Jonas Mann (@jpmann) November 14, 2015
The National Anthem is playing, but tonight our thoughts are with Paris. 🇫🇷 #CapsFlames #PrayersForParis pic.twitter.com/AVMIs81yWf

— Washington Capitals (@washcaps) November 14, 2015
Omni Hotel in Dallas is displaying French flag in solidarity with France. pic.twitter.com/vq7X5xrVie

— David Finfrock (@DavidFinfrock) November 14, 2015
Wembley has also lit up in French colours
Wembley lights up in the French colours. #SolidariteFrance #PrayersForParis pic.twitter.com/rxA3sqvSqX

— JOE.co.uk (@JOE_co_uk) November 14, 2015
@UKWelcomesModi The Iconic Tower Bridge is also lit up in tricolour tonight. Proud moment! #ModiInUK pic.twitter.com/qHhqrvpUTw

— Indians in London (@IIL2004) November 12, 2015
@UKWelcomesModi The London Eye lIt up in tricolour tonight. Looks fantastic #ModiInUK pic.twitter.com/fKPIhQemQ8

— Indians in London (@IIL2004) November 12, 2015
Comments