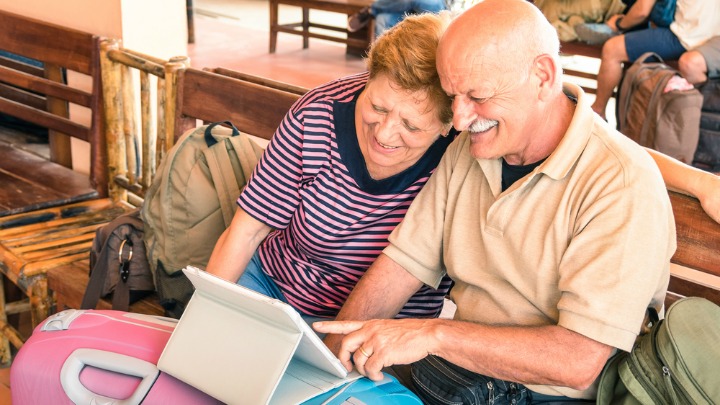 Forget about moving closer to kids or even the retirement home.
According to CNBC, baby-boomers have found a far more fun and relaxing place to retire – cruise ships! And it's not the short trips we're talking about. It's the ones where they literally live on the ship for half a year. One couple, Jack and Willi Ross, swapped their single-family home for a smaller apartment so they could travel most of the year. Their most recent journey? A 180-day trip with Oceania Cruises.
"The cost of living was, in some ways, cheaper," compared with home, said Jack Ross. The 78-year-old Ross said medical care, fine dining, laundry and internet service were included in his cruise fare. (Rates for Oceania's 2017 around-the-world cruise start at about $40,000, but it's now 2-for-1, including first-class roundtrip airfare.)
The Rosses aren't alone. This year, 24 million passengers are expected to set sail compared to 15 million 10 years ago and about a quarter of those are 60- to 74 years old, and another quarter are 50 to 59. And about 2 per cent of Princess Cruises bookings are for 180 days or more, the majority of which are retirees.
Depending on their home city and income level, retirees may find living aboard a cruise ship makes financial sense when compared to other retirement living options, especially in expensive locales.
The Journal of the American Geriatrics Society published a study which found that when considered over a 20-year span, "cruises were comparably priced to assisted living centres and offered a better quality of life, "though land-based assisted living can vary greatly by facility, location and needs."
A reservation on Princess Cruises, for example, averages $135 per day with long-term and senior discounts, not including medical care or excursions, said Geraldine Ree, a senior vice president at a travel agency specialising in cruises.
On the other hand, it costs about $229 daily for a private room in a nursing home and $3,293 per month for a one-bedroom in an assisted living facility, according to LongtermCare.Gov.
Independent living or retirement communities range from $1,500 to $3,500 a month, according to HelpGuide.org.
Then there's the comfort factor on cruise ships. In addition to your stateroom, retirees receive housekeeping services, entertainment and often educational programs. There's often 24-hour meal service and there are inclusive amenities like fitness centres and pools.
Besides the comfortable furnishings of a cruise ship, many guests also value the relationships they develop with crew, who remember their names and offer personalised attention.
"The crew adopts them," Ree said. That's a big part of the reason retirees Al and Donna DeFlorio were enjoying a 60-day cruise on Azamara Cruises earlier this year.
"On a cruise ship where the officers know you, they just treat you very well," said Donna DeFlorio. She said that cruise staff remembered them from two years ago. The couple has taken 45 cruises together since 2001.
And when it comes to a very lengthy cruise, long-term guests can also persuade a cruise line to let them bring their own furniture or decorate their cabin at their own expense. They can also negotiate better prices if they book in early with their agent.
But is life at sea really for everyone?
There are a few questions you'll need to ask yourself…
Can you afford it? 
"You need to be able to afford it," Moraif said. The cruise lines may be marketing to more well-to-do customers.
Last year, Crystal Cruises announced plans for "Residences at Sea," 48 suites across three new ships that will be put into operation by 2018. Those who buy in early can customise their floating apartments, which range from 600 to 4,000 square feet.
"Cruises can be dirt cheap and if you are willing to move from ship to ship, you can live fairly cheaply," said Allan Roth, principal at Wealth Logic, a Colorado-based financial planning firm. He said a permanent residence on a ship can be quite expensive. "You're not going to do this because it's economical. It's because it's a lifestyle you want," Roth said, noting the average cost of one can be several million dollars and several hundred thousand dollars in annual fees. Since a ship is a depreciating asset requiring maintenance, it's also unlikely to recover a return on its resale.
Is your health up to it? 
You should also consider your health before long-term travel on a cruise ship, despite some lines offering well-equipped medical centres with nurses, doctors, X-ray machines, ICU units and pacemakers. "While I would love to [truly live aboard a cruise ship all year], it wouldn't make sense given my situation," said Al DiFlorio, who sees doctors regularly for a health issue.
Experts recommend working with an experienced travel agent to find the most suitable option based on price, amenities and feasibility, and "practicing" the cruising lifestyle before diving in full time.
To some, retiring on the cruise ship is literally "sailing into the sunset". When asked whether he and his wife would sail for good, Jack Ross said it was a real possibility as he heads into his 80s and 90s. They've arranged for their accountant to intercept mail and bills while they were gone, disconnected their television cable and telephone services, and reduced their collision auto insurance to third-party liability which in return saves money. "You just bring your suitcases and unpack them. It's like living at home, but I don't have to worry about renewing my driver's license," he said.
Would you ever trade your home for life at sea?
Comments
Important information: The information provided on this website is of a general nature and for information purposes only. It does not take into account your objectives, financial situation or needs. It is not financial product advice and must not be relied upon as such. Before making any financial decision you should determine whether the information is appropriate in terms of your particular circumstances and seek advice from an independent licensed financial services professional.