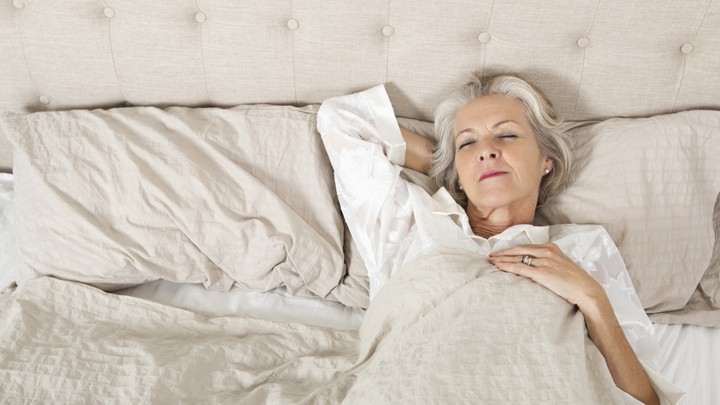 Our bed is where we spend a third of our life, so why do we seem to just put up with it when it's uncomfortable? As most of us know, a lumpy bed can lead to health issues such as insomnia and back pain, as well as inflammation and restlessness.
But getting a comfier bed shouldn't mean you need to splash out on an expensive mattress. In fact, there are a number of things you can do without spending a fortune, and even with your existing mattress.
Here's how to boost your bed's comfort level, simply.
1. Memory foam mattress pad
If you don't have the world's best or most expensive mattress, don't despair. Many of us don't own that thousand-dollar mattress, but you can get the comfort associated with one. Simply purchase a memory foam mattress pad. They come in all sizes, but go for one that's about 3-5cm thick.
2. Down bedding
If you like down, aren't allergic to feather products, and can afford the luxury, down bedding can be very comfy addition to your bed. You can buy pillows, mattress toppers and comforters, and there are some synthetic versions that are very close to the real thing for a fraction of the price.
3. Comforter or doona?
In the warmer months, most of us prefer a lighter comforter or sheet to sleep, but as it gets cooler, you might be opting for the doona. There are some more full comforters that act like a doona, for less than the price of down.
4. Great sheets
It goes without saying that you need great sheets, but if you can't afford Egyptian cotton or a high thread count, don't despair. You can buy bamboo sheets which are cheaper and also feel lovely on your skin.
5. Electric blanket or throw
Add an electric blanket to your bed or look into electric warming mattress pad, which is placed on top of the mattress. These days they also have electric throw blankets, which can be nice when you're lying on the couch or don't want it under you.
6. Choose your pillows

Does your pillow seem to get too hot at night? Ventilated pillows exist! If you need more support, buy a contoured foam pillow or a wedge pillow. Body pillows, which are typically the same length as two normal sized pillows together, are great for people who lie on their side but need some leg elevation.
7. Wash your pillows
The yellowing of pillows is a fairly common problem and is mainly caused by sweat and the type of fabric your pillowcase is made from. And even if you have pillow covers underneath your pillow cases, the yellowing can still occur. Here's how to clean it.
You'll need
HOT water
1 cup laundry detergent
1 cup powdered dishwasher detergent
1/2 cup bleach
Before washing check the care label on the pillow to confirm it can machine washed. 
Method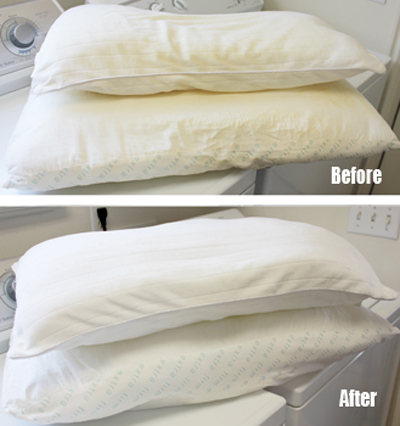 Image source: Practicallyfunctional.com
Start the machine and make sure all the detergent dissolves before adding the pillows (top loading washing machine). For a front loading machine, fill a tub with the mixture and do the soaking there before transferring to washing machine.
Once dissolved, add the pillows and allow the washer to fill the rest of the way with hot water.
Agitate the pillows for several minutes; turn pillows over to make sure the top of the pillow get the full effect.
Put machine on a second rinse cycle or just run through twice.
Drying
Down/feather pillows: use low key setting. Place couple of tennis balls in clean socks to help fluff the pillows as they tumble dry. Or simply set pillows outside in the sun to dry.
How do you make your bed more comfortable?
Comments