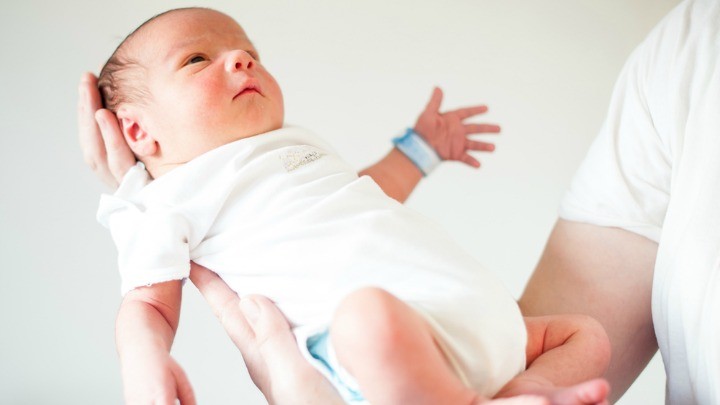 When I had my children it was just me, my husband, and the midwife in the delivery room. I didn't think about inviting my family or my in-laws into the room – to me, in my excitement about the whole process, it wasn't even something I'd considered. So you can imagine my surprise and joy when my daughter Sophie asked me to be in the delivery room with her when she gave birth to her second child.
Her husband is a fly-in, fly-out worker and is much more suited to home duties rather than childbirth, despite his involvement in the process! They decided that he would stay at home with their three-year-old and I would accompany her in the delivery room and support her during the birth. When the time came we all snapped into action. My son-in-law loaded the bags into the boot and my daughter somewhat awkwardly waddled down the driveway and into the car.
Her contractions were painful and fast and she gripped my arm tightly for most of the journey to the hospital. When we arrived the nurse ushered us into a room and was soon the doctor was telling us it was time to start pushing. Although she'd been through it all before I could tell that Sophie was nervous and a little scared. I gripped her hand tightly and she looked up at me with a smile and told me how grateful she was that I was there.
But she had no idea how thankful I was to be there for her – my own mother had passed before my first birth and I desperately wished she were able to comfort me. It was too late for an epidural and Sophie was yelling out for pain relief. She was going to be okay, but it was hardly easy to tell her that in between her deep groans! I clenched my teeth as my daughter was told by the doctor to push. I stayed close to her head so I could hold her hand. The doctor told us she was crowning. Just a few more pushes and the baby was slowly coming out. It was a beautiful baby girl and we could not have been more delighted. I felt such an immense sense of pride and love in that moment for my daughter, and remembered the moment 34 years ago that I too had my baby girl.
When Sophie first told me that she wanted me in the room with her, I was a little shocked. I knew her husband would be the more obvious choice but she told me they had talked about it and decided this was what they wanted. Their first born was going through a difficult phase, prone to tantrums and only wanting to be around his parents, and having him at the hospital would be too much stress for Sophie. She felt more comfortable knowing her husband was at home taking care of him and she was happy to have me there with her instead.
My friends have said their daughters or daughters-in-law were much more reluctant to have their mothers nearby, but why? I know some women (particularly in-laws!) aren't exactly a calming force, but we really do want to help. I do disagree with forcing yourself into the room though, as it should be the mum's choice. A birth is still a beautiful miracle no matter whether you're right there or over the other side of the world – though it would be nice if you could offer some advice and support during the most painful moment of their life!
What do you think? Were you in the delivery room when your grandchild was born? Or should grandparents stay out?
Comments