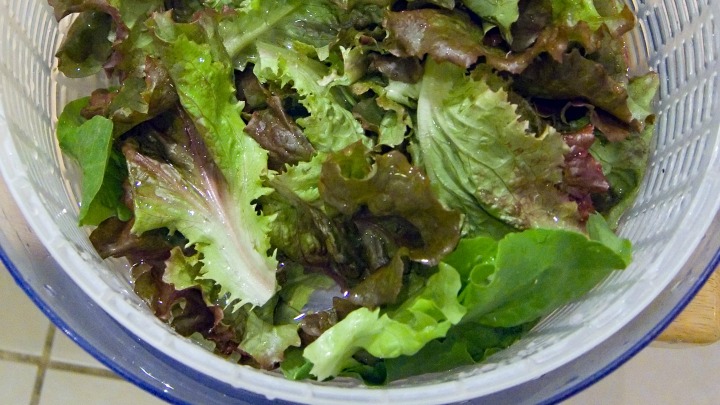 Two people are now in hospital, with dozens more sick after eating salmonella-contaminated salad leaves, which prompted yesterday's mass recall.
The affected produce comes from a farm operation in Victoria, but the lettuce is sold nationally, hence the Australia-wide recall.
Coles and Woolworths have been forced to strip their shelves of salad bags with 28 confirmed cases so far, one of which is a child.
But the Herald Sun reports that the Department of Health is warning this could be the "tip of the iceberg" (we assume the pun was intended), and is preparing for an onslaught calls from consumers around the nation today.
Senior medical adviser, Dr Finn Romanes has urged anyone who feels ill between six and 72 hours of eating ready-bagged lettuce to immediately seek medical advice to confirm whether they have been infected by salmonella.
"Salmonella infections are pretty nasty and can give you quite a nasty gastroenteritis that involves diarrhoea, vomiting and fever, and can go on for a number of days," he said.
"We expect the number (of salmonella cases) to go up, and are certainly keen for people to be aware of the products that are affected and not consume them," Dr Romanes said.
A massive cleanup is now underway at the farm where it's believed the outbreak occurred.
"We don't yet have a clear explanation of the contamination that may have occurred but, as a precaution, a full clean-up of the factory has been undertaken," Dr Romanes said.
Consumers are advised not to eat any bagged lettuce with a use-by date up to February 14.  Sky News provided this full list of recalled products:
Woolworths Spinach 100gm
Woolworths Rocket 100gm
Woolworths Salad Mix 100gm
Wash N Toss Watercress 100gm
Wash N Toss Sorrell 50gm
Wash N Toss Baby Cos 100gm
Wash N Toss Spinach 100gm
Wash N Toss Salad Mix 100gm
Wash N Toss Rocket 100gm
Wash N Toss Kale 100gm
Coles Spinach 60gm
Coles Rocket 60gm
Coles Rocket 120gm
Coles Spinach and Rocket 120gm
Coles Spinach 120gm
Coles 4Leaf 120gm
Coles 4Leaf 200gm
SupaSalad 180gm
SupaSalad Green Coral 180gm
SupaSalad Supamix 1kg
SupaSalad Spinach 1kg
SupaSalad Rocket 1kg
SupaSalad Baby Cos 1kg
SupaSalad Spinach 180kg
Customers can return affected products for a full refund.
We want to know: how many of you had this potentially contaminated lettuce in your fridge? Did you throw it away or will you ask for a refund?
Comments