Shocking discovery of live creature in supermarket produce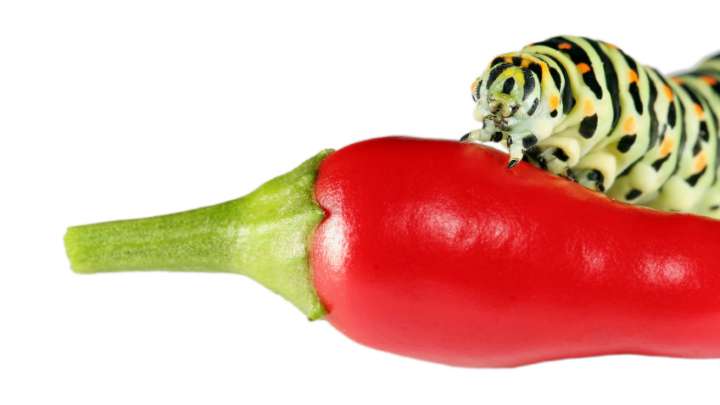 When Coles customer Matthew Wilson cut into a bright red capsicum around dinnertime yesterday, he was stunned to discover an interloper had made his fresh food its home.
The caterpillar, which can be seen in the image he posted to Facebook, looks pretty comfy inside. However, the owner was unimpressed.
The South Australian shopper posted a message to the Coles Facebook page, explaining that he wasn't sure to the culinary benefit of the critter.
"Hi Coles, how are you today?" writes Mr Wilson, opening with a bit of chit chat about the weather before launching into the issue at hand:
"I would like to thank you for providing me with groceries that are indeed fresh. Though yesterday whilst buying this red capsicum from Kurralta Coles, SA (which I intended on eating tonight in my wife's tasty chicken stir fry — it's a real cracker!) I took some friends homes with us, a whole family in fact.
Ad. Article continues below.
"I've never had Chicken Caterpillar Stir fry, though I don't think I will and I probably will look for a caterpillar-free red capsicum in the future."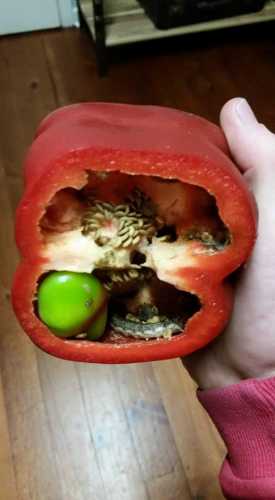 Mr Wilson's post has been widely shared and commented on, with sentiments ranging from "lol" to "what a sook". Many people express surprise that the capsicum is, at least, not doused with insecticide, while others tell him to man up, ditch the bug and cook the damn stiry-fry. Or add the caterpillar for added protein.
To their credit, the person at the receiving end of the Facebook message rightly interpreted the customer's ability to have a laugh, replying with:
"Hi Matthew, you found them! Thank goodness, we've been looking everywhere.
Ad. Article continues below.
"We're sorry to hear the caterpillar family almost made it into your dinner, but we're glad they're safe and sound at home.
"We hope the joy of being new foster parents to this army of caterpillars brings you much warmth this winter."
Mr Wilson was offered a replacement, bug-free capsicum.
We're not what's more shocking in this case: the fact the customer found an actual living creature inside his produce, or that Coles' marketing team has a sense of humour.
Tell us, what would you do if you found a caterpillar in your fresh produce? Would you take it back and expect a replacement, or accept it as part of eating fresh food?