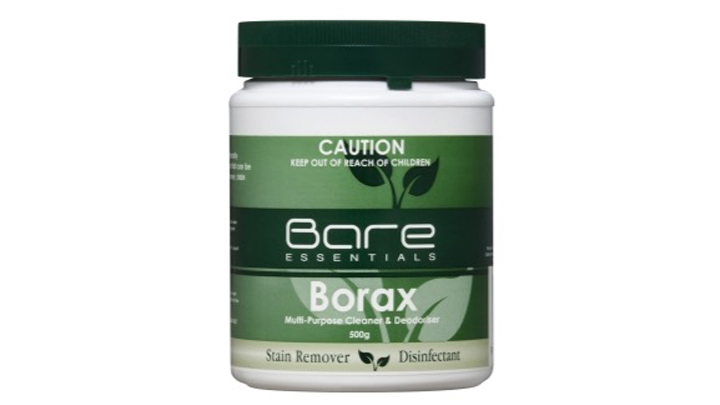 Borax (sodium tetraborate) is found naturally in plants and soil, meaning it's very safe to use at home and in everyday circumstances. Borax is a natural mineral similar to baking soda. This powerful little compound works great to naturally clean problem areas around the home.
Here are seven ways in which you can stretch your box of borax further.
1. Clean shower and bath
Mix borax with just enough water to form a paste. Place the mixture on a sponge or cloth and scrub to clean bathtubs, shower tiles and sinks. Borax will remove soap scum, deposits and grime.
2. Clean your brushes and combs
Fill your bathroom sink with warm water, add 1/4 cup of borax and a squirt of dishwashing liquid, and stir with your brush and/or combs. Then let them sit in the mixture for 30 minutes before rinsing.
3. Make a floor cleaner
Mix 1 teaspoon of dish detergent mixed with 1/3 cup of Borax, 1 tablespoon of ammonia and 1 litre of hot water makes a great floor cleaner.
4. Remove rust
Mix 1 part borax with 1 part lemon juice, spread the mixture onto the rust, then let it sit for at least 30 minutes. Finally, just wipe it clean. Repeat if necessary.
5. Clean your coffee pot
Add one teaspoon borax, and one teaspoon of detergent to your coffee pot and heat. Swish around and leave overnight.
6. Remove stains from your laundry
Give your laundry a cleaning power boost by adding ½ cup of borax to each load. Borax works as a natural bleaching agent and helps remove tough stains. It will also leave your clothes smelling naturally fresh. For tough stains, try presoaking the garment in a combination of borax and warm water for 30 minutes before washing.
7. Remove stains from the carpet
Mix 1/2 cup of borax with 2 cups of warm water, then use the solution and a sponge to saturate the stained area. Scrub it thoroughly, let it sit for 30 minutes, then vacuum the area and let it dry.
Bonus tip: Make yourself an all purpose cleaner, by mixing 2 tablespoons of borax with 2 cups of hot water and add to a spray bottle!
Have you used any of these? What other uses of borax do you know of?
Comments